The Healthy Power Of Pumpkins

By
.(JavaScript must be enabled to view this email address)
Friday - October 05, 2011
|
Share
Del.icio.us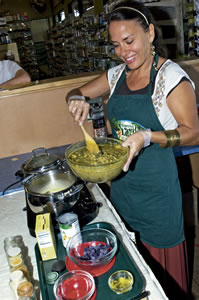 Mama T cooking up at Down to Earth in Kailua. Nathalie Walker photo

.(JavaScript must be enabled to view this email address)
As October rolls in, so do the pumpkins. And while many people will be buying their jack-o'lanterns for decoration, don't forget that they're also great for eating.
"Pumpkin is low in calories and fat, and high in fiber," says Carmela Wolf, wellness manager at Down to Earth. "It is also nutrient-rich and especially high in beta-carotene, alphacarotene, lutein and zeaxanthin (which are two carotenoids especially important for eye health and help to prevent macular degeneration).
"Pumpkin also is rich in other vitamins and minerals, and many people do not realize how high it is in potassium" (more than 500 mg per 1 cup serving).
In addition to a variety of delicious pumpkin dishes, Wolf suggests using the raw pumpkin as a facial.
"Because pumpkin is very high in enzymes it helps exfoliate skin," she explains. "You can put it in a blender (without the seeds) and blend up a puree of the raw pumpkin to make a face mask. And depending on your skin type, people who have a drier skin type can mix it with honey, or if they have a little bit of an oilier skin type they can mix it with apple cider vinegar. Or for any skin type it's fine just mixing it with milk, and you really start to feel the tingly effect of the enzymes right away.
"You normally don't leave the mask on for more than 10 minutes, and since it's loaded with vitamin A and beta carotene you're also getting that in your skin, which is great for skin health."
If you're carving out your pumpkin, don't toss the seeds out either, as they also have great nutritional benefits.
"The seeds are a good source of vitamin E, iron, magnesium, potassium, zinc, and are an excellent plant-based source of omega-6 and omega-3 fatty acids," says Wolf. "It's also a good source of an amino acid called tryptophan, which helps balance mood, promotes relaxation and sleep.
"In traditional Chinese medicine, it's recommended that men over 40 have a handful of pumpkin seeds a day because it's good for prostate health, and they're recognizing that in Western medicine as well."
If you're in need of some pumpkin recipes, check out Down to Earth's free cooking classes, available at all five locations (Kailua, Kapolei, Honolulu, Pearlridge and Kahului).
"First off, the pumpkin is a fruit people are often mistaken that it is a vegetable," says Trisha "Mama T" Gonsalves, Love Life! Team Leader at Down to Earth. "And there are different varieties of pumpkins the kabocha is a popular one here in Hawaii.
"I would recommend any of the pumpkin recipes that we're featuring at our cooking classes. The pumpkin polenta is absolutely delicious."
Here are the upcoming cooking classes at Down to Earth. Each class runs about 45 minutes to an hour, and includes free samples.
Classes at Down to Earth at Kapolei (4460 Kapolei Parkway, Suite 320) take place every Wednesday from 4 to 5:30 p.m. and again at 5:30 to 6:30 p.m. There also is a class on the third Saturday of each month from 11 a.m. to noon.
Here's a schedule: Oct. 5: Mango Coconut Oatmeal, Three Grain Porridge, Herbed Barley Pilaf, and Multi-Grain Muffins
Oct. 12: Pesto Creme Pasta with Pumpkin, Grilled Garlic Vegetables, and Chocolate Peanut Butter Silk Pie
Oct. 15 (Saturday): Pumpkin Polenta with Sauteed Greens, Kale Salad with Toasted Pumpkin Seeds, and Pumpkin Bread
Oct. 19: Homemade Vegetable Broth, Beets & Greens Saute, and Mushroom & Squash Casserole with Green Confetti
Oct. 26: Pinto Bean Cutlets, Onion-Miso Gravy, and All Grown Up Macaroni & Cheese
The Kailua location (at 201 Hamakua Drive) has its classes on the first and third Tuesdays of each month from 4:30 to 5:30 p.m. The next class is Oct. 4 and serves up Pumpkin Pad Thai, Pumpkin Cheesecake and Pumpkin Smoothies. The Oct. 18 class will feature Cranberry -Spinach Salad, Sauteed Fall Veggies with a lemon dill dressing, and GarlicGinger Seitan.
At Pearlridge (98-129 Kaonohi St.), classes are on first and third Mondays of each month from 5:30 to 6:30 p.m. The Oct. 17 class offers Jap Chae Salad, Kalbi & Bulgogi Seitan, and Kim Chee Fried Quinoa.
The Honolulu location (at 2515 S. King St.) also hosts a class on the first Saturday of each month from 11 a.m. to noon.
For more information, visit downtoearth.org. Recipes are posted online the day after each class and on Down to Earth's Facebook page.
Most Recent Comment(s):