The Poster Girl For Living Healthy

By
.(JavaScript must be enabled to view this email address)
Friday - December 10, 2008
|
Share
Del.icio.us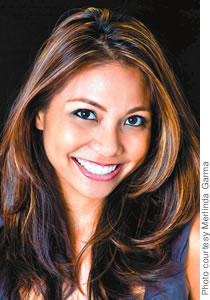 Merlinda Garma: no more fast food
Kaiser Permanente celebrates 50 years in Hawaii with a new poster that tells us:
* 50 is the new 30.
* There are 50 calories in eight lychees.
* Walking on sand can burn 50 percent more calories than walking on pavement.
* Eating 50 grams of dark chocolate a day may reduce heart disease risk.
* Fifteen minutes of hula dancing burns more than 50 calories.
As for the beautiful poster model, she's local girl Merlinda Garma. You may recognize her as the host of the television show Hawaii Skin Diver. But what makes her the perfect spokesmodel for Kaiser is her commitment to health.
In addition to being a model, hula dancer and motivational speaker, Garma, 27, also is a Kaiser employee working as a ward clerk at its Moanalua Medical Center.
Her mother, Erlinda Garma, also is a Kaiser employee, working as a labor and delivery nurse at the Malama East nursing unit.
Garma holds a BS in biology from the University of Hawaii and is now studying for her Law School Admission Test (LSAT). She hopes to get into law school or a graduate program and eventually wants to become an attorney in health law.
She also has a passion for acting, and works as an assistant for acting coach Scott Rogers at the Academy of Film and Television.
But perhaps her biggest dream is to find a cure for cancer.
"My father had prostate cancer and then went into remission, thank goodness, and then my mother got breast cancer," she explains. "It was really sad to see my mom go through breast cancer because she had to go through chemotherapy. But there are a lot of support groups out there for women who are diagnosed with cancer so that, on top of us being supportive of her, I think really helped her.
"For me, it has made me realize that life is pretty short. And it has changed me to kind of respect my mom and dad more because I know I was a horrible teenager to them."
In her free time, Garma enjoys running, hiking and dancing Tahitian and hula - all of which keep her active and fit.
"And I'm picking up diving, which is pretty hard," she adds. "I just like being outdoors. And what I like about hiking is when you get to the top, you feel like you've succeeded at something.
"My boyfriend (Jesse Smith) and I recently did the Kuliouou Ridge hike, and for three hours you're huffing and puffing, but when you get to the top it's absolutely rewarding."
At the start of the year, Garma made a New Year's resolution to not eat fast food. Now, 12 months later she can proudly say she did it.
"It's great because I haven't gone over 100 pounds ever since I cut the fast food out of my diet," she says. "I've stayed at about 98 pounds. I used to eat a lot of fast food because it's easy, especially when you're in college. It's just so much easier to go through the drive-through instead of making a home-cooked meal.
"It was pretty hard in the beginning, but then it got easier, especially when the people you are close to eat healthy too. My dad, Mamerto and my boyfriend are healthy eaters. And my sister Toni is a third-year med student and she has a really good diet and is a workout buff."
Garma, a 1999 graduate of Maryknoll School, also loves to travel. Last summer, she and her boyfriend took an adventurous trip to Montreal, Vermont, New Hampshire, Seattle, Vancouver and Whistler. In February, she'll visit the Philippines for the 10th time with her parents.
Garma has been at Kaiser for four years and credits her time there for discovering her goal of helping others and their health.
"I used to work at Kaiser's Malama East nursing unit, working with a demographic I hadn't worked with before, the elderly," she says. "They're so cute and really sweet. And working with older people, I got to see what demographic I would like to work with in the future.
"If I do go into law school or a graduate program, I just know that I want to work with people and help them to maintain a healthy lifestyle."
It's a passion similar to that of Kaiser Permanente's founder Henry J. Kaiser. When he was just 16 years old, Kaiser's mother died in his arms. He later said in one of his speeches, "We were poor. We could not afford a doctor or the hospital care that could have saved her life. I resolved then and there to do something about people dying for lack of medical care."
In 1958, Kaiser began Kaiser Permanente Hawaii with 38 doctors and 5,000 members. Now, 50 years later, Kaiser has 4,400 employees and more than 410 doctors who serve 222,000 members at the Moanalua Medical Center and 17 clinics on Oahu, Maui and the Big Island.
Most Recent Comment(s):