The Second Golden Age Of Tennis

By
.(JavaScript must be enabled to view this email address)
Friday - December 17, 2008
|
Share
Del.icio.us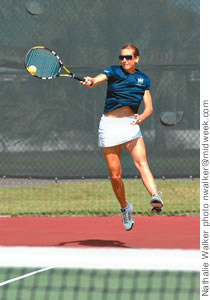 More people, like Judy Weitz, are playing tennis in Hawaii
Last week, the United States Tennis Association and Tennis Industry Association reported that tennis participation throughout the U.S. continued its growth on every measurable level in 2008 with more players (nearly 26.9 million) taking to the court this year than at anytime in the past 15 years.
And according to the USTA Hawaii Pacific Section office, Hawaii is mirroring the national trend.
"I think the increase reflects the state of the professional sport," says Charles Coleman, director of adult tennis for USTA Hawaii Pacific Section. "You've got great stars (such as Roger Federer, Rafael Nadel and the Williams sisters) and wonderful events and much better TV coverage than in the past.
"I think we're experiencing a second Golden Age in tennis, sort of what we had in the 1970s."
Coleman also credits new equipment and gear for the spike in interest of the sport.
Racquets are bigger and strings are more powerful, which help to make the average player more effective compared to the tiny wooden racquets from long ago which required more skill and practice.
Also, it's pretty affordable. A decent racquet will run you about $100 to $300 and a can of balls about $2.
And with beautiful year-round weather and a long list of public courts, Hawaii is a great place for tennis. (For a list of public parks that have tennis courts, visit http://www.honolulu.gov/parks/programs/tennis/index1.htm.)
Tennis also is a great way to get in shape. On average, you can burn 400 to 600 calories per hour playing singles tennis, and between 350 and 500 calories per hour in doubles tennis, depending on your weight.
"I think the No. 1 thing about tennis is that it's social," adds Coleman. "If people are looking for something to help them get into shape, something that's social is going to hold your attention longer than a solitary sport.
"And that's where the classes really come in because teachers, especially in the beginning program, are really good about connecting players, and the players tend to stick together as they advance."
Whether you're a beginner or advanced player, Coleman says the availability of quality instruction is much higher than it was before.
As for the health benefits, Coleman, who has been playing the game for the last 38 years, calls tennis a lifetime sport that provides a full-body workout.
"I do other sports as well, but tennis has helped me with developing hand-eye coordination, quickness and flexibility," he notes. "Also, it's not terribly hard on the knees. These days the shoes are really good and the court surfaces are really good. And most people play doubles, so the movement is really reduced, especially with social tennis.
"And it's just a really exciting game. It's fun to hit the ball and figure out strategies."
Earlier this year, the USTA launched a new national program called QuickStart Tennis - a new format for teaching kids 10 and younger tennis. The size of the court is reduced, the height of the net is lower, the size of the racquet is smaller and the ball used is very low-compression.
"It's been going great," says Madeleine Dreith, team service representative for USTA Hawaii Pacific Section. "Now you can actually see rallies, and it's definitely helping the kids because they're getting the repetition. With QuickStart I think the kids will have more fun, they'll stay in the game a little longer and they won't get frustrated as easily. Tennis can be a challenging game."
For more information, visit www.hawaii.usta.com.
Most Recent Comment(s):