The Sweet Facts On Strawberries

By
.(JavaScript must be enabled to view this email address)
Friday - January 28, 2009
|
Share
Del.icio.us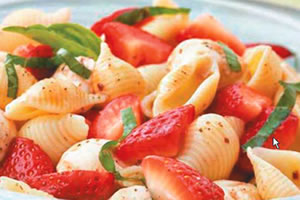 Strawberry Caprese Pasta Salad
I love strawberries! They taste good and are good for you.
According to Driscoll's, one of the leading berry producers in the United States, a diet rich in berries may boost levels of good cholesterol and improve blood pressure, indicating its potential benefits for heart health. Also, strawberries are convenient to purchase and always in season.
"Berries are rich in polyphenols, which are an antioxidant, and what makes them so powerful is that they're linked to lowering the risk of heart disease," notes Tina Ruggiero, a registered dietician with a master's of science in biochemistry. "And strawberries are such a universally loved food that eating them is a simple way to reduce your risk of heart disease.
"Other polyphenol-rich food include chocolate and red wine."
Ruggiero recommends that people eat two to four servings of antioxidant-rich fruits per day. In case you're wondering, 1/2 cup of fruit is one serving, and 1/2 cup of strawberries has about 30 calories.
Strawberries also are naturally high in vitamin C and are a good source of fiber. The little seeds seen on the outside of a strawberry add to the fiber of the fruit - and fiber is good, because it can help to lower your cholesterol and reduce your risk of certain cancers, such as colon cancer.
When shopping for strawberries, Ruggiero says to look for smooth, unblemished fruit. Also, strawberries deteriorate pretty quickly, so it's best to eat them within a day or two.
Another great thing about strawberries is that they're versatile and can easily be incorporated into entrees, salads and desserts.
Here are two simple recipes from Driscoll's:
Strawberry Avocado Salsa
(Yields 3 1/2 cups)
* 1 (8-ounce) can pineapple chunks or tidbits
* 1 small avocado, pitted and diced
* 1 (1-pound) package of Driscoll's strawberries, 3/4-inch cubed
* 1/2 to 1 whole jalapeno pepper, seeded and minced
* 1 tablespoon balsamic vinegar
* 1/2 teaspoon onion salt Drain and reserve 2 tablespoons pineapple juice. In glass or pottery bowl, combine pineapple, reserved juice, avocado, strawberries, jalapenos, balsamic vinegar and onion salt. Let stand five to 10 minutes for flavors to blend.
Serve with chips or over grilled halibut or chicken breasts.
Or, instead of pineapple, peel and chop 1 medium mango and add to remaining ingredients with 1/3 cup orange juice and 3 tablespoons lemon juice.
Strawberry Caprese Pasta Salad
(Serves 4 to 6, Prep time: 20 minutes)
* 2 cups Driscoll's Strawberries, rinsed and quartered
* 8 ounces pasta shells, cooked
* 8 ounces small mozzarella balls
* 1/4 cup slivered fresh basil
* 1/4 cup slivered red onion
* 1/4 cup prepared balsamic vinaigrette
Rinse cooked pasta with cool water and drain.
Drain mozzarella. In a large bowl, combine pasta, cheese, strawberries, basil and red onion.Toss gently with balsamic vinaigrette until well coated. Can be prepared ahead; dress just before serving.
For more berry recipe ideas, visit www.driscolls.com.
Most Recent Comment(s):