The Truth About Stretch Marks

By
.(JavaScript must be enabled to view this email address)
Friday - March 21, 2007
|
Share
Del.icio.us
Stretch marks on a woman's tummy after pregnancy
Puberty, pregnancy, weight gain - these are some of the most common causes of stretch marks.
Almost everyone I know has stretch marks somewhere on their body.
Mothers tend to show them around their tummy. Bodybuilders may develop some around their biceps. And bigger-breasted women may find some near their chest.
So how do we get rid of these unwanted lines? Unfortunately, there's not much we can do.
"Stretch marks are scars on the skin," explains Dr. Julie Kenner of Kenner Dermatology Center. "Different people are genetically predisposed to having them.
"They occur to a sudden change in size. Usual reasons are a growth spurt during adolescence or pregnancy, but not everyone gets stretch marks."
According to Kenner, stretch marks are developed from a break in the skin. Initially, the streaks are a pink/reddish brown/purple color, and then later fade but usually never totally disappear.
In addition to genetics, people who are on steroids may be more prone to getting stretch marks.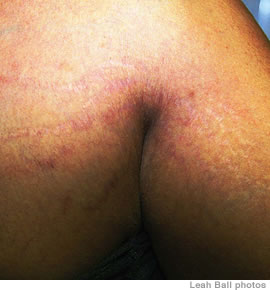 Stretch marks on a man's upper arm and chest
caused by weight lifting
As for preventing them, Kenner recommends using a topical vitamin C product, which is safe for pregnant women to use as well.
"Vitamin C doesn't have a direct benefit on scarring," she says. "But it can help rebuild and strengthen collagen, so it can help stretch marks in that regard. When you stretch the skin you break the collagen, so you want to strengthen the collagen."
She also suggests that pregnant women who are concerned about stretch marks maintain their weight within the realm of their obstetrician's recommendations.
Also, keep your skin protected from the sun because the sun breaks down collagen.
And take care of your skin after the pregnancy.
"(After they give birth) we can start them on retinoid (which is not safe to use during pregnancy), and we can have them consider other interventions such as medical needling, which helps to tighten up the scar and lay down new collagen," she says. "And sometimes we use laser treatments to heat up the collagen to try to tighten it."
In the medical field, stretch marks usually fall under the care of a dermatologist.
There are also countless over-the-counter lotions and oils claiming to prevent stretch marks, but none has real scientific proof.
One of my friends confessed to spending $400 on products during her first pregnancy, but to no success.
"I used it every day - from the start of my pregnancy to the end," she says. "And I used a variety of brands and products. But they didn't work. I still ended up with a lot of stretch marks."
According to Kenner, moisturizers do not do anything actively for collagen. But they can help to reduce itching.
"Overall there's really no easy, quick, one-time answer (to getting rid of stretch marks)," says Kenner. "And prevention is real difficult."
Kenner also cautions people who develop a lot of sudden, unexpected stretch marks to see a physician, as it may be a problem with your endocrine system.
Most Recent Comment(s):