The Truth About Your Calf Muscles

By
.(JavaScript must be enabled to view this email address)
Friday - February 28, 2007
|
Share
Del.icio.us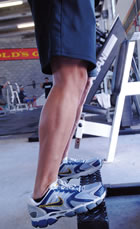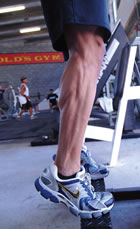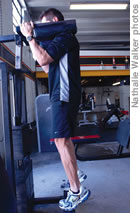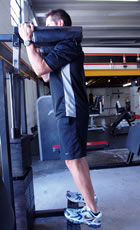 Standing calf raise: Place toes on step with heels
down, tippy toe to bring your heels up, hold and release,
do 10-20 repetitions, three times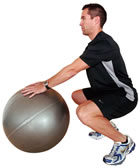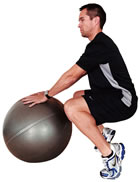 Squatted calf raise: start on toes, bring heels up,
release, high reps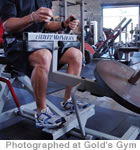 Seated calf raise: As above but seated, 10-20
repetitions, three times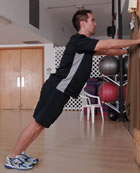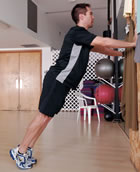 Slanted calf raise: Start with feet on ground, tippy
toe up, hold, release

What's up, bird legs?
Many of my guy friends often complain about their skinny legs, specifically their calves.
Well, sorry, boys, there's really not that much you can do about it. Although there are men who get calf implants.
"For the calves, it's kind of a genetic gift," explains Kimo Kockelman, personal trainer and owner of Hardass Fitness. "You'll see some people who have beautiful calves who have never worked them a day in their life, and then there's guys who work out all the time and can barely keep it up to par with the rest of their body."
According to Kockelman, part of the challenge is that the calf muscle (or the gastrocnemius and soleus) is dense in that it can handle a big overload of activities.
"It's just one of those muscles; it's hard to change the size of it but you can change the look of it and get better development," he says. "But you're not going to go from a thinner calf to a really diamond shaped, upside down heart calf. It's probably not going to happen, even though you can develop other muscles in your body."
Fortunately, men usually list chest and arms as their No. 1 priority for building muscles. And girls more often than not will want skinny legs.
But if you're one of those who are on a mission to develop your calves, here are some exercises that can help. The standing and seated calf machines are great to do in the gym. While the squatted and slanted calf raises can be done at home.
Keep in mind that while you can improve the look of your calves, it's going to be tough to change the size of it.
"It takes a long time, years, for calves to develop," adds Kockelman. "You're not going to get changes overnight."
When using the calf exercise machines, Kockelman recommends alternating the direction of your toes. Pointing them outward will put more stress on the inner calf muscles, while pointing them inward will put more stress on the outer calf muscles.
As for exercises with no additional weight, the goal is to go for the burn. "You need real high repetitions and maximum burn," says Kockelman. "After about 30 or 40 reps, you're going to feel a burn, but if you do 100, that's more of a burn."
Also good for your legs: hill running, cycling, jumping rope and stair climbing.
For more exercises for the body, visit www.hardassfitness.com .(JavaScript must be enabled to view this email address)
Most Recent Comment(s):