The Value Of Eating White Veggies

By
.(JavaScript must be enabled to view this email address)
Friday - December 30, 2009
|
Share
Del.icio.us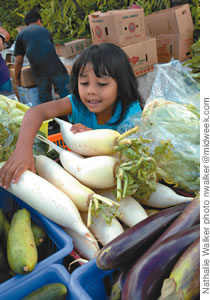 Alysha Nonemountry inspect turnips at the Windward Mall farmers market
We often are told to have a diet full of color, specifically a good range of fruits and vegetables of different hues.
But what about the non-colored fruits and vegetables?
Well, yes, non-colored foods such as onions, mushrooms, potatoes and turnips are good for us too.
"People are encouraged to eat a diet full of color for a number of reasons," says Linda Powley, clinical nutritionist for Kaiser Permanente, "not only because of the nutrient content, but because of the eye appeal. When you have colored fruits and vegetables, you tend to want to eat that meal. However, there are nutrients to be found in the white foods, too."
According to Powley, foods that fall into the white group are rich in allicin that may protect against cancer-causing agents, help lower bad cholesterol (LDL) and help to control hypertension. These foods include onions, cauliflower, turnips, garlic, scallions and mushrooms.
Powley adds that the onion also has some antioxidant properties, with wide-ranging claims that it's been effective against heart disease, diabetes, osteoporosis and other diseases.
Also, people have been known to use onions for many different things, such as to heal blisters and boils, and to reduce swelling from a bee sting.
Powley believes all fruits and vegetables have a place in our diets, no matter the color.
Red foods (such as tomatoes, watermelon and guava) contain lycopene, which may aid in the prevention of cancer and lower the risk of heart disease.
Yellow and orange foods (such as pumpkin, cantaloupe, carrots, mangoes, pineapples, oranges and apricots) contain carotenoids, which can help boost the immune system function and slow the aging process.
Green foods (such as bok choy, spinach, watercress, peas, green beans, asparagus, broccoli and green peppers) contain lutein, which protects against eye problems and also may aid in the prevention of cancer.
And purple and blue foods (such as purple cabbage, berries, prunes, raisins and plums) are rich in anthocyanins, which may help keep capillaries strong.
As for the vegetable that's best for us, it's the sweet potato. In 1992, the Center for Science in the Public Interest compared the nutritional value of sweet potatoes to other vegetables. Considering the fiber content, complex carbohydrates, protein, vitamin A and C, iron and calcium, the sweet potato ranked highest in nutritional value.
Next on the list is the common potato.
Most Recent Comment(s):