Tinwoman Forever

By
.(JavaScript must be enabled to view this email address)
Friday - July 21, 2006
|
Share
Del.icio.us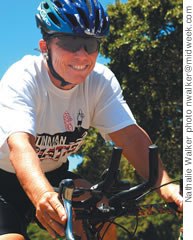 Linda Kaiser is trained and ready for
her 26th Tinman Triathlon
This Sunday (July 23), Linda Kaiser will enter her 26th Tinman Triathlon, hoping to continue her streak of completing every Tinman since its inception in 1980.
"Doing triathlons is a challenge for me to push myself," says Kaiser, who was born in Hilo and raised in Kuliouou. "I want to try everything. I kind of got this thing in my mind where I don't want to die and say man, I should've done that. I want to go out, experience it, and have a good time."
Growing up in Hawaii, Kaiser learned to swim at a very young age from her father.
Now, at age 55, she has swum six of the eight swimmable Hawaii channels: Lanai to Maui, Maui to Molokai, and Molokai to Lanai (which are all between nine and 11 miles each), Maui to Kahoolawe (seven miles), Kahoolawe to Lanai (14 miles), and Kauai to Niihau (20 miles).
"The only two I have left are the Big Island of Hawaii to Maui, which is 30 miles, and Molokai to Oahu, which is about 25 miles," she says. "In channel swimming, you have an escort boat with you, but the rules say you cannot touch the escort boat. They throw food or water to you, but that's it.
"It's not like running, where if you're tired you can just stop. In swimming, if you're tired you still have to tread water, so you're in constant motion from four to almost 11 hours."
Of the three events in a triathlon - swimming, biking and running - swimming is definitely Kaiser's strongest.
And with about 50 marathons and a few ultra-marathons behind her, she's just as good a runner.
But even after finishing dozens of triathlons, Kaiser admits that the bike is still a challenge for her.
"To me, biking is very dangerous because you've got so many variables," she explains. "Biking is not anything you can control - you can have a flat tire, a car can hit you, you can hit a pothole, you can have a mechanical error, etc.
"In swimming, you can kind of shut off and go off somewhere in your mind and relax, where in biking you have to be constantly aware of what's around you. You've got to be so conscious of everything, and you just can't relax."
Kaiser is one of just five people who've finished all 25 Tinman Triathlons - Amy Harpstrite, Donohue Fujii, Russell Goo and Leland How being the others.
"I'm not addicted to triathlons, but I'm addicted to the Tinman," says Kaiser. "I will probably do the Tinman until it's no longer. And I think for all of us who have done it every year, we'll keep doing it to be the last one standing. It's going to take a major catastrophe for any one of us to not do it."
This year, Kaiser has participated in a few other triathlons already, including the Honu Half Ironman on the Big Island last month.
From her training this year, she lost 10 pounds. But aside from the obvious health benefits of doing a triathlon, Kaiser says it's the people she meets that keep her going with the sport.
"I get to meet and kind of work with people other than swimmers," she says. "By doing a triathlon, I meet people from the biking community, the running community and triathletes in general from all over the world - people who all have a goal to better themselves and be better athletes. It's really just amazing."
Kaiser may have known how to swim her whole life, but it wasn't until much later that she discovered her passion for it. Until age 25, she was actually a cowgirl, spending her free time on the ranch riding horses.
"I think people need to try different things because if they don't try different things they're not going to know what they like and dislike," says Kaiser. "In triathlons, you've got three different sports, so you either like the whole triathlon or you can branch out into just one of the events.
"And I believe that the Tinman Triathlon is something everyone can do. With training,
it's possible. And the harder you train, the better you're going to do."
About 800 people are signed up for this Sunday's Tinman Triathlon. Event officials say they want to thank the community in advance for their understanding and patience during the race.
Traffic controls will be in effect in the Kapiolani Park vicinity, Diamond Head, Kahala, Aina Haina, Niu Valley and East Honolulu areas on Sunday, July 23.
Beginning at 5 a.m., the race route will have one lane closed and/or coned off at different areas until the triathletes complete each segment of the triathlon course.
The event begins with the swim at Queen's Beach. Next is the bike, which begins at Kapiolani Park going up Diamond Head Road toward Hawaii Kai on Kalanianaole Highway and back to Kapiolani Park.
The run also starts and finishes at Kapiolani Park with the route going through Kahala.
For more information, visit www.tinmanhawaii.com
Most Recent Comment(s):