Tips For White, Healthy Teeth

By
.(JavaScript must be enabled to view this email address)
Friday - December 21, 2011
|
Share
Del.icio.us
World-renowned aesthetic dentist and oral health expert Jonathan Levine, along with his business partner and wife, Stacey, will be at Sephora Ala Moana Dec. 21 from 10 a.m. to 3 p.m. to give complimentary comprehensive smile evaluations (normally $275) as well as personalized regimens with GLO Brilliant, his breakthrough teeth-whitening device.
"The No. 1 cosmetic technique we have today which is the most conservative is tooth whitening," says Levine, who is a regular expert on The Dr. Oz Show. "And when you talk to people about teeth whitening, there's an emotional change that comes with improving your smile. It resonates with people and it excites people because they know they're going to look better, feel more confident and look younger."
According to Levine, some of the common causes of discoloration of teeth are diet, nutrition, oral health care at home and genetics.
"Coffee, red wine, tea, soy sauce, anything that would stain a white shirt, and, of course, smoking and tobacco, stain teeth terribly," says Levine. "Couple that with someone who maybe doesn't brush and floss that well, those molecules will stick to your teeth very well and impact the color of your teeth.
"What's important with these foods is that people have a good, healthy oral care regimen. Which means brushing three times a day, and flossing, which is critical because it's the only thing that cleans between the teeth, and prevents the gums from getting inflamed and bacteria from getting into your body that causes problems in your overall health. Also, people need to get into their dental professional/hygienist office twice a year."
Levine also notes that eating too much protein and meat can create a very high acidic and low pH in the mouth, which creates an environment for bad bacteria to live.
"That bad bacteria causes gum disease and bad breath," he says. "People have to do what Mom has always said: Eat green leafy vegetables and colorful fruits."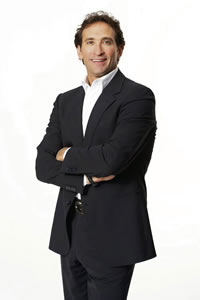 Dr. Jonathan Levine and his GLO teeth-whitening product. Photos courtesy Jonathan Levine
Levine's GLO Brilliant Personal Teeth Whitening program was developed at his practice for his patients to do at home. It uses GLO (guided light optic technology) for professional, clinically proven, longlasting whitening results.
"We use professional whitening elements of light and heat, and place it inside a mouthpiece that forms to the mouth, which prevents the active oxygens of the peroxide gels to escape," he explains. "The procedure is four, eight-minute applications of the very safe concentration gel. They do this five days in a row, and there's an average shade change of five shades. After that it's one eight-minute application per week or four a month for maintenance. And we say two whitening sessions a year."
Levine's dental practice in New York has been known to be an oral care mainstay for high-profile clients, including Dr. Mehmet Oz, Christie Brinkley, Tina Fey, Lenny Kravitz, Mariska Hargitay, Peter Gallagher, Alessandra Ambrosio and more.
He's been practicing aesthetic dentistry for more than 25 years and is an associate professor at the NYU School of Dentistry.
"What we've been able to do with this Glo Brilliant device is to innovate what exists currently in the professional office and greatly improve upon it for the dentist and for the consumer," notes Levine. "It's for people who really only have a color problem. Their teeth are yellow and they want to get them lighter. On average, people will see results after five days."
This will be Levine's first appearance at Sephora in Hawaii. He also will make a stop in Kona, where he's been visiting for the past 14 years to go cycling.
During his upcoming event at Sephora, customers who purchase a GLO Brilliant Personal Teeth Whitening Device will receive an additional mouthpiece ($79 value) for free.
For more information, call 944-9797. For more details on GLO Science, visit gloscience.com.
Most Recent Comment(s):