Totally losing It

By
.(JavaScript must be enabled to view this email address)
Friday - August 26, 2005
|
Share
Del.icio.us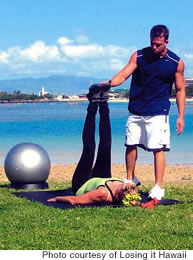 Matt Jones with Lynette Kahoano
Lose weight. Look great. And win some amazing prizes. Now that's an offer you can't refuse.
It's the Losing It Challenge put out by Matt Jones, fitness trainer and host of the local fitness show Losing It.
The three-month challenge is geared to help participants reach their personal fitness goals and possibly take home prizes such as a trip for two to Las Vegas and gifts from BIKEFACTORY, Phiten, Arbonne International, Boca,Vim N Vigor and Runner's HI.
"The purpose of the challenge is to give our viewers a chance to work with Matt on a one-onone basis, get personalized nutritional assessments, and also to motivate and offer incentives for them to challenge their goals," says Alicia Michioka Jones, executive producer of the show. "We want our participants to not only challenge themselves in three months, but use this information more long term."
Each participant will meet with Jones once a month for three months, and conduct body fat testing and nutritional assessments to track their progress.
"The challenge will go into the beginning part of the holidays, so we are anticipating the difficulty of this challenge," adds Jones. "So our winner will need to be very strong and really want a change in their life.
"Many things will be taken into consideration while choosing the winner of the Losing It Challenge. We will take into consideration not only amount of weight lost, but attitude. We are looking for someone who will most likely keep the weight off. So, I guess the criteria would be 50 percent physical and 50 percent personality."
Jones started his personal training career in 2002 after training his girlfriend (now wife) Alicia Michioka for the Miss Hawaii USA pageant, which she won. She went on to place in the top 10 at Miss USA.
Since then he has become one of the island's top fitness trainers working with many local celebrities and models, including entertainer Jordan Segundo, Radasha Ho'ohuli (Miss Hawaii USA 2006), Malika Dudley (Miss Hawaii 2005 and winner of the pageant's swimsuit segment), Brooke Hasegawa (Cherry Blossom queen 2005), and Amber Stone (second runner up and winner of the swimsuit segment for Miss Hawaii USA 2006).
"The most challenging part of losing weight is staying motivated," says Jones, who trains his clients at the Hawaii Athletic Club. "The hardest part is the first few weeks of a program. Because it's so foreign, many people would rather revert to their old ways. The easiest way to overcome this is by having peer support.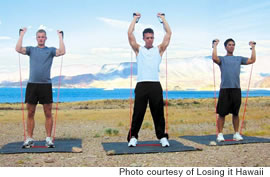 Matt Jones leads Michael Calhoun and
Jordan Segundo in a workout
"If you have someone like a personal trainer who can talk you out of eating that doughnut, your chances are much greater. Starting a program with friends is also a great way to succeed in a new program."
No time to hit the gym? Well, tune in to Losing It, a fat-burning circuit fitness program that airs Monday through Friday at 8:30 a.m. and on Saturday and Sunday at 7:30 a.m. on OC16.
Each 30-minute show features easy-to-do-at-home workouts that require little to no exercise equipment, a healthy eating and diet segment, and beauty tips.
The Losing It Challenge is open to anyone age 18 and older. Deadline to enter is Aug. 31. Applications are available at Runner's HI, Phiten, Vim N Vigor, BIKEFACTORY or online at www.losingithawaii.com
Most Recent Comment(s):