Training For Miss USA

By
.(JavaScript must be enabled to view this email address)
Friday - April 14, 2006
|
Share
Del.icio.us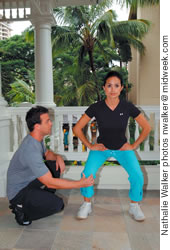 Miss Hawaii USA Radasha
Hoohuli with personal trainer
Matt Jones
Miss Hawaii USA Radasha Hoohuli loves to eat. Her favorites: pizza with lots and lots of cheese; milk chocolate covering just about anything; vanilla, chocolate chip cookie dough or cookies-and-cream ice cream; and McDonald's French fries.
But in January, Hoohuli said goodbye to her regular diet and hello to health food. It was time to get in tip top shape for the Miss USA pageant April 21 in Baltimore.
"My normal diet ignited a lengthy lecture from my personal trainer Matt Jones about my health," says Hoohuli, 26. "As you can imagine, he was not happy with my kind of diet. Now, my diet includes two options. Option 1 for breakfast: egg and yogurt. Option 2 for breakfast: egg and fruit. Option 1 for lunch: vegetables and protein. Option 2 for lunch: beans and protein. Option 1 for snack: veggie snacks, such as carrots, celery, etc. Option 2: EAS low carb bars. And only 1 option for dinner:Vegetables with protein.
"Also, a couple of months ago my doctor found me to have borderline anemia, so for supplements I take iron pills for the anemia and multivitamins for the workout regime."
Hoohuli wanted to lose about 15 pounds. Jones wanted her to look as lean and toned as possible. But because muscle weighs more than fat, the two had to come to a compromise: Lose as much weight as possible without losing definition.
In the beginning, Hoohuli would do cardiovascular exercises at least three times a week and train with Jones another three days at Gold's Gym.
"Having a personal trainer is very helpful," she says. "In my case, Matt has been able to keep track of my progress over the past two and a half months, and he recommends my diet.
"He doesn't just tell me not to eat something. Instead, he gradually takes away certain unhealthy or fatty foods. This helps for my body to progressively adjust to a more healthy diet without giving my body a shock that I won't be able to sustain over the duration of training."
Along with not being able to eat her favorite foods, Hoohuli says the most challenging part of staying fit is making the time to get into the gym.
"My daily schedule is tight," she explains. "With attending Hawaii Pacific University, working at the Ko Olina Resort and Marina Corporate Office, Miss Hawaii USA duties, and the need to get sleep, finding the time is the toughest challenge.
"But my motivation comes with wanting to represent Hawaii to the best that I can. I want the locals to say, "Wow, our local girl looks great and fit!"
For the Miss USA competition, each contestant from all 50 states and the District of Columbia will be judged in three categories: swimsuit, evening gown and interview. The pageant will be held at Baltimore's First Mariner Arena and televised live on NBC.
"The swimsuit phase is always nerve-wracking for me," admits Hoohuli. "All the local hula dancers understand me when I say that I have the hula hips and thighs, so trying to work on those parts is very tough.
"I think for Miss USA the judges are looking for a fit and beautiful body. When I am on stage I think the entertainer in me just turns on and I don't think about my problem spots, instead I just live in the moment and feel good about the hard work and sacrifices that I have made."
Before Miss USA, Hoohuli confesses to not working out regularly. However, these last three months may have changed that.
"When I'm not preparing for a pageant, the only exercise that I get would be dancing hula," she says. "I've always been tall and skinny, but I wouldn't say fit. I have never toned or trained my body to look the way that it does now. And I actually like it.
"Matt and I laugh sometimes about how my veins just start popping out sometimes!"
Hoohuli lists her favorite exercises as the elliptical for cardio; and declined sit-ups, leg raises and crunches for core/abdominal workouts.
Hoohuli, who calls herself an easy-going, plain-Jane kind of girl, names her beauty secret as rest.
"If I had my choice I would-n't wear makeup or do my hair," she reveals. "So if there was one secret, I think it would be to do something each day that I feel good doing.
"Your body and your brain will tell you what it needs. Sometimes you can push its limits, but other times your body might be saying that it's tired and exhausted. So to make my body feel good, I sleep. Let it rest so that it will be good to do an even tougher workout the next day!"
At 5 feet 9 inches tall and wearing a size 2, Hoohuli says she's happy with the results of her training. And while she misses having her "normal diet" foods, it's a sacrifice she's committed to.
"My weakness is ice cream," she says. "I have found every way to have nonfat yogurt ice cream or half-the-fat cookies-and-cream ice cream. Dreyer's has the best. But as the pageant gets closer, I won't be able to have much of that anymore.
"There are many things that I have learned throughout the whole preparation process for Miss USA, but in regard to fitness, I have learned that you are what you feed your body. If you give your body junk food, you'll be tired and dragging. But if you give your body good food, you'll have a lot of energy and you'll feel good."
Cheer on Hoohuli in Miss USA on Friday, April 21 at 8 p.m. on NBC News8.
Most Recent Comment(s):