Training To Be As Fit As A Monkey

By
.(JavaScript must be enabled to view this email address)
Friday - June 08, 2011
|
Share
Del.icio.us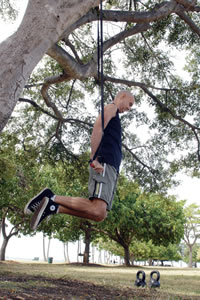 Brandon Bosworth does jungle gym dips and works out with kettlebells. Nathalie Walker photo

.(JavaScript must be enabled to view this email address)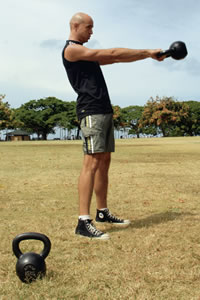 At age 40, personal trainer Brandon Bosworth says he's in the best shape of his life.
For most of his life, he says he was on the heavier side - chubby and unathletic.
Then, about 10 years ago, his mother passed away at the age of 48.
"She was morbidly obese, had to get gastric bypass surgery; it got botched and she passed away," recalls Bosworth. "That's when I really started getting serious about my health."
Bosworth recalls that, when he was 30, he couldn't do a single chin-up. His heaviest weight was around 220 pounds, which may not sound like a lot for someone who's 6-feet-3-inches tall, but he says it was all soft and flabby.
Now, he's a slim 170 pounds, has a 31-inch waist, and started his own business Fit Monkey Hawaii with a mission to help others be functionally fit.
He received training from Jon Hinds at Monkey Bar Gymnasium on the Mainland, and is a certified instructor in Burton Richardson's mixed-martial arts for street self-defense, as well as battlefield kali, a Filipino stick-fighting art.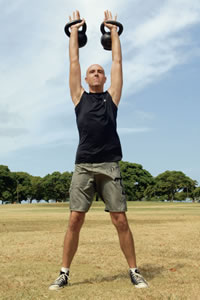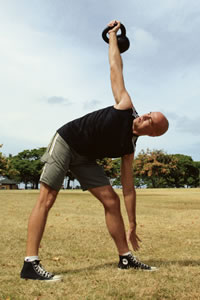 His classes are about an hour long and take place outdoors or in the comfort of your own home.
"My approach is different from that of many trainers," he says. "Fit Monkey Hawaii is ideal for open-minded people ready for a new approach toward fitness and exercise. You won't have to take time-consuming trips to the gym. Instead, you'll get in shape training outdoors using tools such as kettlebells, yoga, plyo-metrics and martial arts."
Bosworth says kettlebells (which look like a cannonball with a handle) are his favorite training tool because of the ballistic type of circular movement you get from them, bringing a much stronger conditioning and endurance to your work-out.
A 1989 graduate of Aiea High School, Bosworth also is a passionate vegetarian and strongly believes in a diet free from animal products.
As for the name Fit Monkey Hawaii, Bosworth says monkeys represent his attitude toward training.
"Part of it is the idea of fitness being fun, playful and working out outdoors," he says. "The other part is the monkey or primate being the example of the perfect fitness model."
For more information, visit FitMonkeyHawaii.com, email .(JavaScript must be enabled to view this email address) or call 381-1711.
Most Recent Comment(s):