Training While Traveling

By
.(JavaScript must be enabled to view this email address)
Friday - May 19, 2006
|
Share
Del.icio.us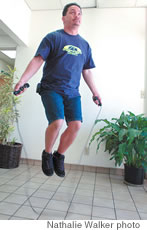 Rennie Mercado gets his cardiovascular training in with a jump rope
It's so easy to be lazy, especially when you're on vacation.
While packing for a trip to the East Coast recently, I was adamant about bringing my running shoes and a few work-out outfits with the intention of exercising each day. However, my workout gear never made it out of my suitcase.
Even with a fitness room in my hotel, scenic surroundings for jogging, and a spacious room in which to do exercises, I just couldn't find the energy to train.
"When you're on vacation there's just too many other fun things to do," says Kimo Kockelman, personal trainer and owner of Hardass Fitness.
"So, if you have a to-do list, exercising is just not on the top unless you make it. Even if you may want to, unless you put it on the top of the list, it's not going to happen."
Unless you're on vacation all the time, Kockelman says it's not a big deal to miss a workout or two. Just be sure to return to your workout routine when get back.
But for those who want to train while traveling, Kockelman suggests moving it to the top of your schedule. "Do it first thing in the morning and get it of the way," he says.
And even if you're traveling alone to an unfamiliar place with unpredictable weather conditions, it's still possible to maintain a healthy exercise program.
There are many exercises you can do in the comfort of your hotel room. For cardiovascular training, pack a jump rope. And for strength training, take a set of resistance fitness bands.
"Resistance bands work good for a couple of reasons: One is that they're easy to pack in your suitcase, and there's no metal so you don't have to worry about metal detectors. And two, there's a ton of exercises you can do with them," explains Kockelman. "Off the top of my head I can
think of at least 20 different exercises that work the whole body.
"Also, just doing push-ups or lunges or just gravity and bodyweight exercises would be another alternative. And for push-ups, you don't have to do it on the ground, you can do it with your hands on the bed or dresser and your feet on the floor so you're elevated, which makes it easier to do."
If you really want to maintain your exercise regime, make it a priority in your vacation planning.
"Whenever I travel I always check the facilities as a workout area, if they have any kind of classes available, and talk to the concierge or front desk about walking/jogging maps," notes Arleen Hattori, aerobics teacher. "That's the first thing I usually do is check what kind of facilities they have and then make my arrangements from there.
"And if they don't have any facilities, I always travel with my tubing bands, and I always work out with some strength training and floor work, such as stretching, while I'm on the road."
MidWeek regional editor Carol Chang says she likes to exercise in the pool while on vacation. And during her last visit to Las Vegas, she and daughter Kelly burned some calories by pacing the long corridors just outside their room at the MGM hotel for 30 minutes.
The key to training while traveling is to be prepared, motivated and when the resources are not available, creative. It's really that simple.
Most Recent Comment(s):