Treating Those Red, Puffy 'Cry Eyes'

By
.(JavaScript must be enabled to view this email address)
Friday - December 02, 2009
|
Share
Del.icio.us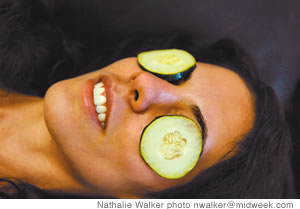 Cucumbers can help reduce swelling
Chances are you've gone through a breakup, watched a super-sad movie or experienced a great loss where you cried all night only to wake up and see yourself in the mirror looking like a frog.
After a good night of crying I always end up with these puffed-out eyes stretching from my eyebrow to my cheekbone. For me, makeup makes it worse, and wearing sunglasses, especially indoors, is just too obvious.
"When you cry, your eye starts to get congested because tears come out and then you tend to dab it and then rub it, and that worsens the redness and the congestion," says Dr. Ming Chen, FellowAmerican College of Surgeons board-certified ophthalmologist and clinical assistant professor at the University of Hawaii School of Medicine. "And the more you rub, it creates the swelling of the conjunctiva (the transparent tissue over the white part of your eye). When that happens, the white part of your eyeball tends to look like fish eyes.
"Sometimes people even have a hemorrhage come out because when they're rubbing their eyeball a vessel breaks. Your eyelids may swell, too, because it's also congested and you rub it."
According to Chen, who also serves as president of the Hawaii Ophthalmological Society, the best way to prevent the swelling is to not rub your eyes. Instead, use a soft tissue or handkerchief and dab your tears.
To reduce the amount of swelling the next morning, Chen suggests an over-the-counter decongestant eye drop such as Naphcon.
Also, try using a cold compress (such as a cold towel) on your eyes for about three minutes, wait 10 minutes, and then place a warm compress over your eyes for three minutes. Repeat one or two more times.
"Your eye is congested, so the cold compress will constrict the vessels and reduce the congestion," explains Chen. "And then the warm compress will increase the circulation to remove the swelling of fluid underneath the skin and enhance the speed of the swelling to go down.
"Also, overnight when you're lying down, your gravity becomes flat, versus when you're standing up the gravity goes down. So the swelling tends to go down faster when you stand up in the morning and as the day goes on, depending on how much you were rubbing your eyes the night before. Also, some people tend to have swelling longer than others."
It's also common for people to place sliced cucumbers or tea bags on their eyelids, which can help to absorb the fluid from their skin and reduce the swelling.
For people with an extreme case of swelling, Chen recommends seeing a doctor, who can prescribe medication to treat the problem.
"For so many thousands of years, the Chinese have used tea bags to treat swelling of the eyes," adds Chen. "I know many mothers who tell their children if your eye is puffy or if you have stye eye, put tea bags on it to reduce the swelling. It's the same mechanism as the cucumbers, where it tends to absorb the water from the parts of the skin where there is excessive water. It's probably more comforting than really reducing the swelling, but it may reduce the swelling. For some people it definitely works, and for some people it doesn't, so you can try it to see if it works for you."
Most Recent Comment(s):