Treating Trauma With Surfing

By
.(JavaScript must be enabled to view this email address)
Friday - April 25, 2007
|
Share
Del.icio.us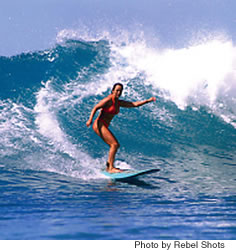 Cynthia Derosier: surfing teaches positive life
lessons
The key to a successful exercise program is finding one that you enjoy doing. Whether it's running, yoga or kickboxing, regular exercise is not only good for you physically, but also mentally and emotionally.
For local author Cynthia Derosier, surfing was the answer.
"Surfing has become essential in my life," she says. "It keeps me centered. It's a way to reconnect with the world around me and with myself.
"And physically, it's a great workout. You don't know when you're sweating and you don't get too hot. It's really good for your arms, your shoulders and your back. You develop long lean muscles."
Now, Derosier and the Hawaii Girls Court are working with a group of troubled teenage girls in hopes of teaching them not only how to surf, but also the many life lessons that come with surfing, such as patience, respect and humility.
The six-week program, called The Surfrider Spirit Sessions, was inspired by Derosier's book The Surfer Spirit, and is intended to empower the young women to redirect their negative energy into a positive pursuit.
"For many of these girls, there's a real need for them to have some kind of physical activity and something meaningful to do," explains Derosier, who discovered her passion for surfing six years ago. "And it made sense that if we could take these girls surfing, we could teach them how their actions and behaviors affect their life while using surfing as a metaphor. The program is very personal development oriented. We want to give them the life skills they don't have and to help build their self-esteem."
The girls are assigned to Spirit Sessions by a family court judge. According to Derosier, many of them have endured not just one trauma, but multiple traumas, such as rape or witnessing domestic violence to the level of murder.
"They grew up in an environment that was so chaotic that a lot of them run away," notes Derosier. "Many of them have shoplifted, tried drugs, and have some sort of anger or victim issues.
"They're in a lot of pain and don't have a lot of joy. And they don't have a lot of proper life skills."
The first Spirit Session class was scheduled to take place this past weekend in Waikiki with about six to 12 girls participating, with one instructor and one mentor per girl.
The program is run through the Surfrider Foundation, and sales from The Surfer Spirit help fund part of the program. Quiksilver also has donated rash guards and surf shorts for the girls in the program.
"Each lesson begins with a theme from The Surfer Spirit," says Derosier. "For example, there's a page that reads 'I choose my challenges, I accept the outcome, my wave, my ride my life, my choice.
"So what we're introducing to them is that this is all a choice.
Whether or not they're going to learn from it and enjoy it or be angry and frustrated, they have a choice."
Derosier believes there are many lessons from surfing that can be applied to everyday life. For example, the way that surfers observe ocean conditions before entering the water reminds us to assess any type of situation and identify whether it's a good thing or a bad thing before jumping in.
"We also teach the girls how to fall off a board properly," adds Derosier. "We want to teach them what happens when you fall and how to fall well.
"Our hope is that these girls will become surf junkies instead of bad behavior junkies."
For more information or to make a tax-deductible donation to The Surfrider Spirit Sessions, visit www.thesurferspirit.com
Most Recent Comment(s):