Triathlon Test

By
.(JavaScript must be enabled to view this email address)
Friday - October 14, 2005
|
Share
Del.icio.us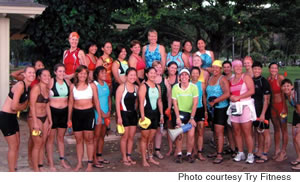 Race director KC Carlberg (middle) with Linda Kawana and
Yu Shing Ting at the finish line
We did it! On an early Sunday morning in September, about 270 women of all ages, shapes and sizes crossed the finish line at the Na Wahine Sprint Triathlon in Waikiki.
"It is very exciting to see everyone complete the race," says KC Carlberg, race director, personal trainer and president of Try Fitness. "The looks on the faces of the women as they finish is priceless. As a triathlete myself, I know how it feels to race hard and the feeling of accomplishment that comes when you finish."
The race (consisting of a 500-meter swim, 20k bike and 5k run) may have been easy for some veteran triathletes, but for my friend Linda Kawana and me, it was a challenge we weren't quite sure we could accomplish. In the beginning, we both knew we wanted to do it, we just had some serious doubts about our ability to complete it. I can still hear Linda's words, "I can't do it; I'm going to drown."
Well, somehow we convinced ourselves to sign up, and with a month and a half to go before the race, we started training with Try Fitness. Together we learned the fundamentals of swimming, biking and running. We also gained friendships with other women who shared the same goals and interests.
The training paid off, and in the end, Linda lost 10 pounds and I lost 3 percent body fat. But most importantly, it gave us the confidence we needed to be at the start line and get to the finish.
"I was glad race day was finally here," recalls Kawana, who had her swim cap autographed by her family for good luck. "After eight weeks of training with Try Fitness I was ready to go.
"I saw Missy Capone from Niketown before the swim and she said "Are you nervous?" I replied "No, I'm not nervous!" but I guess I was nervous on race morning because my compression shorts were on backwards! I didn't realize it until after the race when I viewed my husband's digital photos, I exclaimed, "What is that logo doing back there?"
As for me, I may have had my clothes on right, but I was indubitably nervous. The swim distance sure looked long, and because of my busy schedule I didn't train as much as I had wanted to. But oh well, there's no turning back now, I kept telling myself.
The horn goes off and as I swim toward the halfway point I actually feel pretty good. But then it happened. A kick to my shoulder and a good swallow of water, and I started to panic. I decide to swim to one of the race officials along the course and held on to their surfboard to try to regroup myself. Although legal, I was disappointed in myself for stopping. Finally, after about a minute of resting, I continued to swim to the finish where hundreds of spectators cheered us on to the transition onto the bike.
As I started to pedal, I could feel tears welled up in my eyes. The most difficult part of the race for me was over, and I guess it finally hit me that I was on my way to the finish. I could not help but wonder how Linda was doing, and all the other Try Fitness gals. And I was just so proud of everyone.
"I was hit and kicked by other struggling swimmers too," remembers Kawana. "We were swimming like a school of fish. Leah Schretenthaler (age 15) completed the swim in 8 minutes and 47 seconds, and I gave myself a goal of 30 minutes based on her fastest Na Wahine swim record of sub-9 minutes. I finished in 25 minutes, so I was happy to finish ahead of my goal, but the swim really set me back.
"To tell you the truth, I think my husband was worried about me since most of the swimmers had already exited the water, but I was right on 'my' schedule. Never give up, that's what I was thinking when my training techniques did not work out just right."
It was definitely a challenge, but worth every penny, minute and muscle spent. Now Kawana, who never thought she could ever do a triathlon, is already planning on doing another one.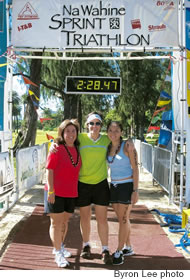 The ladies of Try Fitness gather before
the race
"I am proud to have earned the title of triathlete," she says. "And I am most proud that my daughters witnessed my determination to challenge myself and reach my goal.
"Being prepared and race ready, it was easier than I thought it would be. I was happy to be there. I am glad I had the opportunity to fulfill this goal. A triathlon is something I always wanted to do."
While training for a triathlon can be fun, it's also a great way to get in shape. Kawana, who is 47 years old and a mother of four, says she noticed an increase in energy level and performance, being toned and tanned, and, of course, weight loss.
But there's more.
"The cross training that is involved in triathlon training is very beneficial because with cycling and swimming being lower impact it allows the body to heal and not get overused in one particular way," explains Carlberg. "And the health benefits extend beyond just cardiovascular fitness, strength and endurance. Other benefits include reduced stress, greater self-esteem and confidence that do carry over to other areas of our lives.
"And I think anyone can do a triathlon, absolutely. Most of us have done all those things separately in our lives, it is just a matter of putting them together, training properly and believing in yourself."
.(JavaScript must be enabled to view this email address)
Most Recent Comment(s):