Triathlon Trepidation

By
.(JavaScript must be enabled to view this email address)
Friday - September 09, 2005
|
Share
Del.icio.us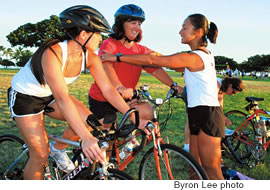 Shoko Paul helps position Linda Kawana to
the correct biking form as the writer listens
Last July my friend Linda Kawana and I decided to challenge ourselves by participating in the Na Wahine Sprint Triathlon on Sept. 18.
Well, the race (which consists of a 500-meter swim, 20k bike and 5k run) is about a week away, and I would be lying if I didn't say that I'm more than a little nervous.
It's Kawana's first triathlon and my second. Kawana, 47 and a mother of four, has always wanted to do a triathlon, but never thought she could. And while I've completed one before, I had serious doubts about being able to do one again.
So we decided to get help from KC Carlberg and her Try Fitness training program staff.
"My fitness level is definitely improving," says Kawana midway through the training. "I am surprising myself! I can measure this by my energy level and performance. I'm getting a lot of positive comments since I'm getting toned, tanned, and I have lost 10 pounds! A lot of people have said that I am their role model."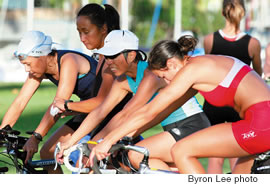 Shoko Paul keeps time as B.J. Namba, Bindu
Van Camp and Jenny Ong pedal away
This triathlon training has been a tremendous learning experience for me. First, I decided to purchase a road bike, which I discovered can be quite costly. I decided to go with a used one and it still cost $700.
There are some road bikes available at a lower cost. One person in our training group bought a really nice used Canondale for about $300, and another woman purchased a brand new road bike for about $450.
Next: learning to ride a road bike. Let me tell you, it's not the same as riding your old school bike or even a mountain bike. It was learning to ride a bike all over again. At least for me it was.
That's where a training group can be really helpful. The coaches check to see if your bike is even the correct size for you, then they teach you the correct form to have when riding, when and how to shift your gears, bike safety, how to change a flat, and much more.
"People use road bikes because it is much lighter and has narrower, high pressure tires which make for a faster ride," explains Carlberg. "It is also more aerodynamic. You can get into a lower, more streamline position on a road bike and can add some aero bars which will allow you to get into an even more aerodynamic position."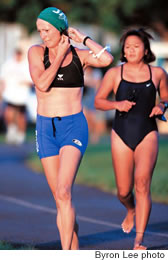 Lori McCarney and Jill Kaneshiro
head to the water
Then there's the swim. I love the ocean, but I'm not a strong swimmer. Kawana and I stayed with the beginner's group and learned the correct way to swim (arm by your side, elbow up and out of the water, reach out and forward and push down and back, while keeping your body as straight as possible). I haven't mastered it, but I'm a lot more comfortable in the water now.
The toughest part of the training for me has been time, which is why I'm still a little uneasy about the race. The group meets three times a week, and I have to admit that my attendance has not been the greatest. If only I was able to get a little more practice in, maybe I would be totally confident about the race.
That's why I must applaud Kawana, who commutes from Mililani to Waikiki, and has been to almost all the workouts, and other busy professionals in the group such as local fashion designer Anne Namba.
"The camaraderie of the Try Fitness ladies makes a big difference," says Kawana. "The commitment of belonging to the program keeps me from making excuses to skip the training. Everybody has a busy schedule, but they need to make time for themselves. It is motivating to have a group of women with the same goal.
"I saw a bumper sticker that said 'Take Time To Play.' Good idea, huh?"
You can cheer on the ladies in the Na Wahine Sprint Triathlon Sept. 18 at Kapiolani Park. Race starts at 6:30 a.m.
Stay tuned for a report from the finish line.
Most Recent Comment(s):