Trying To Prevent A Killer Aneurysm

By
.(JavaScript must be enabled to view this email address)
Friday - June 24, 2009
|
Share
Del.icio.us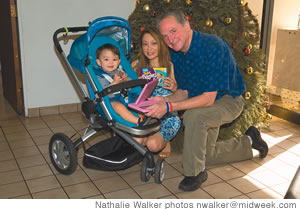 City Councilman Duke Bainum with wife Jennifer and son Z at MidWeek's office in December 2007
I was deeply saddened to hear about the unexpected passing of City Councilman Duke Bainum.
I used to live in Manoa, a district represented by Bainum. But it's not his long list of political accomplishments that first comes to mind when I think about the loss of this selfless man, who also was a physician. Instead, it's the love he had for his family and his community.
I remember being impressed by Bainum's sincerity from the first time I met him many years ago. Then, in 2007, I bumped into Bainum and wife Jennifer, who were with their less-than-1-year-old baby Z at Ala Moana Center.
I was with my newborn son as well, and together we talked about the joys of being new parents. I can still see Bainum's face so clearly, his eyes growing bigger and bigger as he shared with great excitement in his voice how much he loved being a dad. He even joked how he never would have imagined being a new dad at his age, but that it was one of the best things to ever happen to him.
Then, about a year later, Bainum and Jennifer welcomed their second son, Kona, to the family.
Bainum loved his family, but he also loved serving the people of Hawaii.
He was on the Ala Moana/Kakaako Neighborhood Board from 1987 to 1989, chaired the McCully-Moiliili Neighborhood Board from 1989 to 1990, won election to the state House from 1990 to 1994 and then to the City Council from 1995 to 2003.
So when the District 5 seat on the City Council opened up late last year after Ann Kobayashi stepped down to run for mayor, Bainum jumped at the opportunity. He ran unopposed and officially re-entered the political scene here.
But the comeback lasted for only for a short while. On June 9, Bainum died at age 56 from complications due to an aortic aneurysm.
Bainum's senior adviser Mallory Fujitani was quoted in various news reports saying that Bainum was feeling well at work (that day) and having fun chasing the kids around in the evening. He then felt chest pains, was rushed to the ER and could not be revived.
According to Dr. Scott Shay, director for endovascular neurosurgery at The Queen's Medical Center, an aneurysm is an abnormality in an artery, and the key is to treat it before it ruptures.
He says there are two different types of aneurysms - a saccular aneurysm, which is a focal blister, bubble or out-pouching of a blood vessel, and a fusiform aneurysm, which is when the whole blood vessel becomes bigger.
The most common location for a saccular aneurysm is the brain, and the most common cause is a congenital focal weakness in the wall of the blood vessel. Other causes include drug abuse, infection and trauma. Also, people who have certain types of collagen vascular diseases and congenital kidney diseases can be predisposed to aneurysms.
"Unfortunately, aneurysms are silent in the brain," notes Shay. "You don't know you have one until they rupture, and when they rupture you have a sudden onset thunderclap headache, worst headache of your life."
Saccular aneurysms most commonly occur in people in their 40s, 50s and 60s. People with a family history of brain aneurysms should consider getting a CAT scan or CT angiogram in their late 20s or early 30s. Shay recommends this especially for people with two first-degree relatives (such as a parent or sibling) with a history of brain aneurysms.
"If somebody experiences a sudden, onset thunderclap headache and they may or may not lose consciousness, they may or may not have a neurological deficit, meaning they can't speak, they're disoriented, they don't know where they are, then they should seek immediate medical attention in the nearest emergency room," advises Shay. "When a brain aneurysm ruptures, maybe between 40 to 45 percent of people will not make it."
As for a fusiform aneurysm, Shay says this type of aneurysm tends to be caused as a by-product of the hardening of the arteries or arterial sclerosis.
"A fusiform aneurysm can occur in the brain, but they more commonly occur in the chest artery, the aorta and the abdominal aorta," explains Shay. "A fusiform aneurysm is also asymptomatic, meaning you could not know you have it until it ruptures, and when it ruptures people can actually bleed to death. When these things blow, it happens very quickly. It's severe pain and you can lose consciousness very quickly.
"Also, when it ruptures, the mortality rate is even higher than when the brain ruptures. It's probably about 75 percent, if not higher."
Causes of the hardening of the arteries include smoking, high cholesterol, high blood pressure, hypertension and family history.
It's safe to say that aneurysms occur without much warning, but there are times when it's discovered incidentally before they rupture by a CAT scan or MRI for something different.
"It's important for people to have their annual physical exam because the doctor can look for things that may alert them to something imminent," says Shay. "For these kinds of things the name of the game is to treat these before they rupture."
Services for Bainum are scheduled for June 26 at Hosoi Garden Mortuary (30 N. Kukui St.). Visitation/viewing is at noon, service at 2 p.m. Burial is June 27 at 10:30 a.m. at Diamond Head Memorial Park.
Most Recent Comment(s):