Two Healthy Events For Good Causes

By
.(JavaScript must be enabled to view this email address)
Friday - April 27, 2011
|
Share
Del.icio.us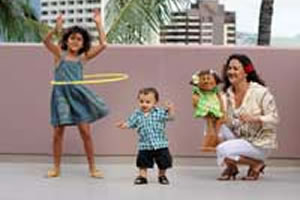 Amaia Nihipali-Sabol, Wakoakea NihipaliDay, and Nohealani NihipaliDay with puppet Nohea. Lawrence Tabudlo photo

.(JavaScript must be enabled to view this email address)
A couple of events are happening this weekend that'll get your heart rate up while helping a couple of good causes ...
On Saturday, First Years Hawaii presents its Rockin' Hula Baby fundraiser from 3 to 6 p.m. at Rumours night club inside the Ala Moana Hotel.
For one Sunday afternoon, Rumours will be transformed into a dance party for families with music provided by a DJ, bubbles, hula hoops, books, games, snacks and more.
First Years Hawaii was founded by Leah Nihipali, a 1995 graduate of Sacred Hearts Academy, after she struggled to find good day-care for her daughter Amaia.
"I interviewed three day-cares and wasn't happy," she explains. "So my main goal is to create a quality rating system for childcare. But we also do these fun events for kids and their families, and promote education and literacy, as well as Hawaiian culture and language."
She also recently received a grant from Friends of Hawaii Charities to make a puppet, which she named Nohea, to be the mascot for the nonprofit organization.
Nohea will make her debut at Rockin' Hula Baby, where in addition to the dance floor, there will be a quiet room for her to read books to keiki.
Nohea's puppeteer, her cousin Nohealani NihipaliDay, received training from Pam Arciero, principal puppeteer for Sesame Street and Between the Lions. Nohea also can be booked for daycares and schools.
"We also just got money to develop a family childcare informational forum and we're going to launch that at the end of the month," adds Nihipali. "This forum will be a safe place where families can exchange information about their own daycare providers and to give suggestions for what they would like to see improved with our day-cares."
Festivities are geared for children from infants to 8 years old. Only family members accompanied by a child will be admitted. Tickets are $10 per walking human and can be purchased at firstyearshawaii.org ...
On Sunday, head over to Saint Louis School for Cooley's Anemia Walk for Life taking place at the school's track from 10 a.m. to noon.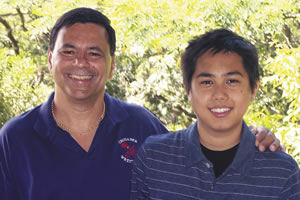 Al Torres with son Andrew. Photo courtesy Torres family
The event is happening nationwide with donations going to help the Cooley's Anemia Foundation fund important medical research for better care and a cure for Cooley's anemia, provide valuable services to patients and families, and educate others about Cooley's anemia.
Locally, the event is being organized by Al Torres, whose son Andrew has Cooley's anemia.
"We found out prenatally, before Andrew was born, that he was going to have Beta Thalassemia Major (a genetic blood disorder)," recalls Torres, a wrestling and cross-country coach, PE department chairman and health teacher at Saint Louis. "Then when he became six months of age, he became transfusion dependent and required blood transfusions every three to four weeks.
"The other major problem is that with all the transfusions, he'd build up an iron overload. So, four or five times a week, he'd wear a pump overnight that infuses a drug called Desferal to help get rid of iron in his body."
Now 22, Andrew recently graduated from the University of Hawaii and is doing "quite well."
While, he was never able to do "the real strenuous and physically demanding sports," which can be tough for any boy growing up, Andrew remains fairly active. He likes to play basketball and football, and played JV golf at Saint Louis.
He still gets transfusions every three to four weeks, as well as chelation therapy, and will continue to do so for the rest of his life - unless, of course, a cure is found.
"Andrew has always been a good student," adds Torres. "Cooley's anemia never affected his cognitive or brain function. He functions like most normal people except for when his blood count drops, and he can tell when it does because he gets tired quickly.
"For our family, one of the things we had to learn right away is you can't control everything in your life. It was really tough watching him go through all the transfusions and taking the liver biopsies and all the things he had to do, but it was very gratifying to see him grow and deal with the challenges in his life and see him make a success out of himself despite the adversity he had to face.
"We've always been very proud of him and the fact that he never let (Cooley's anemia) hold him back."
Donations (in any amount) are accepted for the upcoming "Walk for Life" at St. Louis School. Register that day at Gerber fieldhouse in front of the track.
The walk is two to four miles, and will be broken into 15 minute increments with breaks in between.
For more information, email .(JavaScript must be enabled to view this email address)
For more information on Cooley's anemia, visit cooleysanemia.org or email .(JavaScript must be enabled to view this email address).
Most Recent Comment(s):