Two Teens On A Mission To Help

By
.(JavaScript must be enabled to view this email address)
Friday - December 09, 2009
|
Share
Del.icio.us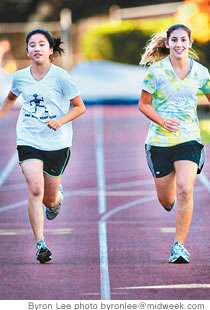 Tama Fukuyama and Maya Grossman are planning a race against homelessness Dec. 20 in Manoa
Tama Fukuyama and Maya Grossman, both sophomores at Punahou School, love to run. But in recent months, they noticed something during their runs that really bothered them.
"We heard a lot about the economic downturn and how it's really affected the people here in Hawaii," says Grossman. "And because of that, Tama and I have seen a lot more homeless people on the streets and in the parks while we're running."
So the two friends, who are also on the Punahou cross country team, decided to organize a 5K race with proceeds benefitting the Institute for Human Services.
The race, Homeward Bound, takes place Dec. 20 at 7 a.m. on the USA Track and Field-certified 5K course, which begins and ends at Manoa Valley District Park.
Fukuyama also was inspired to help the homeless after volunteering at IHS a couple of years ago, serving Thanksgiving lunch and making crafts with the kids there.
"Seeing homeless people makes us both very sad," she says. "We realize that sometimes these people don't deserve it and that they're just like us, and also just seeing them and how thankful they were even though they don't have much."
Grossman, who has been running competitively for the last four years, says they hope to make this an annual event and to raise awareness about homelessness in Hawaii and the IHS.
"We really want to help the homeless because we feel so fortunate to be able to go to Punahou and to be able to have a home to go to at the end of the day," she says. "I've known some people who suddenly were homeless for a short time because of bad decisions they had made. They finally decided to straighten up and get some help, and now they're back in a home, but I know that being homeless is not always their fault and that it can happen to anyone.
"It's a really hard life and we take a lot of things for granted."
Entry fee for the Homeward Bound 5K is $15 postmarked by Dec. 10, $25 at packet pick-up Dec. 18 and 19 at the Running Room, or $30 on race day.
The event is open to runners, joggers and walkers of all levels. There also will be entertainment by Kaumakaiwa Kanakaole and light refreshments at the finish.
For an entry form, visit www.GreenFleetHawaii.com or www.homewardbound5k.blogspot.com.
Most Recent Comment(s):