UH's Heptathlon Champ

By
.(JavaScript must be enabled to view this email address)
Friday - May 26, 2006
|
Share
Del.icio.us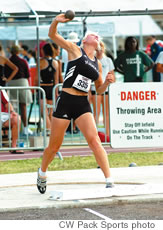 UH Rainbow Wahine Annett
Wichmann wins the heptathlon
at the WAC Track and Field
Championships
According to University of Hawaii track and field star Annett Wichmann, the secret to staying fit is to find a sport that you love.
"It has to be fun," she explains. "Sometimes we have practices where it feels like torture, but most of the time it's fun."
Wichmann, a 22-year-old native of Jena, Germany, has been doing track and field since the third grade. Now, a sophomore at UH, she recently won the Western Athletic Conference heptathlon title and is expected to compete in the NCAA championships in Sacramento, Calif., June 7-10.
"When I was in elementary school, the P.E. teacher asked me if I wanted to take part in a city track meet, and I said sure, why not," recalls Wichmann on how she became involved with track and field. "I did quite good, so the club coach asked me if I wanted to join, and since then I've done every event right from the beginning."
The heptathlon is known as the female version of the decathlon. Instead of 10 events, the ladies do seven - the hurdles, high jump, shot put and 200 meters on the first day, and then the long jump, javelin and 800 meters on the second day.
"I'm training about 10 months out of the year," notes Wichmann.
"In the fall season (August to January), we're preparing for the competition season (January to May/June). We practice basically every day for three to four hours each day on the field and in the gym.
"There's so many practices, and the practices are pretty intense that you don't really need to train on your own. You need the recovery time, which is very
important because, especially in the heptathlon, your muscles can get quite tight."
To help with recovery, Wichmann takes an ice bath or goes in the hot tub at least two times a week right after practice. And for competitions, she gets massages from the team masseuse.
Wichmann, who stands 5 feet 10 inches and weighs 154 pounds, credits part of her track and field success to her participation in it at such a young age. She was lucky to have not only been introduced to it, but to have found a passion for it. However, there was a time when she wanted out.
"I was so fed up with practicing just track and field, and I didn't know if I wanted to do it or not," she remembers. "I practiced quite a lot from a young age and I was tired, burned out maybe. I thought I wasn't enjoying it as much, so I decided to take a break in 2001.
"But after three months I saw that I really missed it, and that's when I knew that I wanted to keep doing it. And that's my motivation, that I know how much I would miss track and field if I would stop right now."
In her two-month off-season, Wichmann stays in shape by playing other sports that she finds fun, such as swimming and volleyball. She also goes on runs and does stabilization exercises at home. And for about two weeks she does nothing. "I just lie on the beach and read," she says.
"After 10 months of training, my body needs a break."
Most Recent Comment(s):