Using Music To Help Teach Keiki

By
.(JavaScript must be enabled to view this email address)
Friday - August 25, 2010
|
Share
Del.icio.us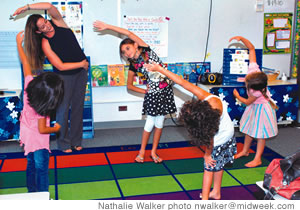 Jenny Fixman with Elisha Dolan, Tyana Molinaro, Marisol Willson and Abby Knox
Start the day with a smile, and let it last awhile. Have you heard the new style? Start the day with a smile.
That's one of the many great messages Jenny Fixman hopes to get across to her kindergarten students at Waikele Elementary School and to children around the world through her latest CD Start the Day with a Smile.
Fixman, also known as Miss Jenny, founded Edutunes in 1998 and has since created more than 200 educational songs that teach reading, writing, math, science and character education.
"According to Howard Gardner, a professor at Harvard University and authority on multiple intelligence, there are nine types of intelligence, and music is the first one to develop," says Fixman, who recently married and is now known to her students as Mrs. Kramer. "Before children even know they're learning, they internalize a song, the rhythm and they want to sing along.
"All children I ever taught learn from music - young children especially.
It doesn't matter who you are, you can't help but remember the lyrics to the songs."
Start the Day with a Smile is geared for children ages 3 to 8, and consists of 11 songs, including Work Out ("Get in a circle. One's in the middle. Everybody, exercise a little. Work out to make your muscles stronger. You'll feel great, and you'll live longer."), Healthy Food ("Eat healthy food to grow up big and strong. Healthy food, you know you can't go wrong. Healthy food, you will feel so good. Healthy food ... Eat like you should."), and more.
For the CD, Fixman teamed up with local award-winning producer Pierre Grill. But that's her voice on it.
"The inspiration for the music comes from my children (in the classroom)," says Fixman. "And in return, I give them the music."
Edutunes products are available at Borders, Barnes & Noble and other local bookstores. Start the Day with a Smile is available at Education Works in Iwilei, Bookends in Kailua and online at edutunes.com.
Most Recent Comment(s):