Wake Up Call

By
.(JavaScript must be enabled to view this email address)
Friday - January 20, 2006
|
Share
Del.icio.us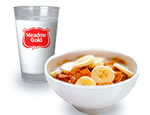 Lose weight with a
good breakfast
Wake up to weight loss in downtown Honolulu with free breakfast from Meadow Gold Dairies on Friday, Jan. 20 from 6:30 to 8:30 a.m.
Meadow Gold, in partnership with Kellogg's and Curves Hawaii, will give away half-pints of low-fat or regular milk along with single-serve boxes of Kellogg's cereal to kick off their Wake Up to Weight Loss campaign.
The event, which takes place at First Hawaiian Bank at the corner of King and Bishop streets, will also include a live broadcast by Krater 96 and several fun games - yogurt stacking, a milk-throw, and a milk-and-cereal-eating competition. Meadow Gold icon Lani Moo - yes, that Lani Moo - will also be present to greet everyone.
The Wake Up to Weight Loss campaign focuses on the weight-loss power of milk and breakfast as an effective and healthy way to jump-start the metabolism and increase the body's ability to burn fat.
Research suggests that getting enough calcium from milk as part of a reduced-calorie diet can help a person lose more weight than by cutting calories alone. Since calcium is part of the body's natural fat-burning system, when calcium goes up, body fat goes down.
According to Meadow Gold, for effective weight loss, it is suggested that 24 ounces of dairy products be consumed daily as part of a reduced-calorie diet.
In addition to the weight-loss power of milk, studies have shown that there are many benefits to eating a good breakfast daily. Breakfast has repeatedly been shown to be the most important meal of the day.
To help people reach their weight-loss goals even sooner, Curves is offering a free one-week membership at any of its 36 Hawaii locations to anyone who brings in a Kellogg's cereal box and grocery receipt showing the purchase of a gallon of Meadow Gold or Viva Milk.
Also, Meadow Gold will be sponsoring "The Breakfast Club," a helpful online community of Hawaii residents who discuss healthy lifestyles and losing weight. The Breakfast Club will feature daily healthy recipes, coupons, and other health and weight-loss tips for maintaining a healthy lifestyle.
The campaign will also reward Hawaii residents with a chance to "Wake Up in Paradise" by winning a Neighbor Island package trip. One winner will be selected weekly throughout the two-month campaign.
To register for The Breakfast Club and to enter to win one of eight Neighbor Island get-away packages, Hawaii residents age 18 and older can visit Meadow Gold's website at www.lanimoo.com
. You can also enter to win the Neighbor Island packages at any Curves Hawaii location. Packages include airfare for two on Island Air, two nights of deluxe accommodations in an oceanfront room at a ResortQuest Hawaii property on Maui, Kauai, Oahu or the Big Island, and an Alamo rental car. Sweepstakes winners will also receive a "Wake Up Call" live on the radio from Michael W. Perry on KSSK.
Most Recent Comment(s):