Walk This Way, But Do It Safely

By
.(JavaScript must be enabled to view this email address)
Friday - November 26, 2008
|
Share
Del.icio.us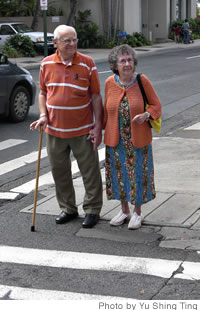 Frank and Rosalie Tadda, presentation speakers for Walk Wise Hawaii, are sure to look both ways before crossing
Rosalie Tadda, along with husband Frank, moved to Hawaii from Alaska three years ago and brought with her a bad habit - crossing the street when you're not supposed to.
"We were at an intersection in Waikiki and the light wasn't with us, but there was no traffic and I, completely oblivious, said hey let's go," explains Rosalie. "But I was the only one who went. Our daughter stayed on the curb and turned as white as a sheet and she told me, when she made it across, do you know how many pedestrians have been killed by doing this?"
According to the Honolulu Police Department, from January 2008 to present, there were 508 motor vehicle collisions involving pedestrians. Also, so far this year, there have been 13 pedestrian fatalities, including nine people who were in a crosswalk.
Rosalie now crosses on the signal and has even become an advocate for safe walking. She and Frank serve as presentation speakers for the state Department of Transportation's Walk Wise Hawaii program, a public education campaign focusing on pedestrian safety and driver awareness concerning pedestrians.
"While not a legal requirement, drivers should stop and yield to the pedestrian if the driver can do so safely," advises HPD captain Evan Ching, who serves as executive officer of the Traffic Division. "And the law requires
that the vehicle shall not proceed until the pedestrian has passed the vehicle and the driver can proceed safely."
The fine for pedestrians who are caught jaywalking and vehicles who do not stop for a pedestrian is $130.
"First, at a signalized intersection, pedestrians can legally enter on the 'walking man' signal," notes Ching. "It is against the law to enter the crosswalk on a flashing or solid red hand. Second, pedestrians should make eye contact with drivers when crossing and remain vigilant while crossing.
"Some of the common causes for pedestrian accidents are drivers who speed and exceed the posted speed limit. Pedestrians who are inattentive, wear dark clothing at night, and dart onto the roadway."
These days, Rosalie enjoys taking her Shiba Inu, Pumpkin, on about a one-mile walk every morning on Royal Palm Drive near her home in Wahiawa.
"We walk against traffic so you can see the cars," says Rosalie. "And I look both ways before we cross."
In an effort to promote safe walking, Walk Wise Hawaii has employed extensive outreach methods, including a Walk Wise Hawaii brochure produced in 12 languages that is handed out at various events and sent to senior living facilities, churches and community centers. Seniors, in particular, have been identified as a vulnerable target; so the program has an active presence at the annual Senior Fair and other senior events. To arrange for a Walk Wise Hawaii speaker to address a senior organization, call Linda Kamiya at 535-9099, ext. 106.
Most Recent Comment(s):