Walking, The Simplest Exercise

By
.(JavaScript must be enabled to view this email address)
Friday - March 28, 2007
|
Share
Del.icio.us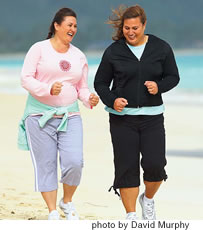 Walking with a friend is a fun, active way
to get together. You'll be surprised at
how much ground you can cover
Do you want to get back into shape, but don't know where to start. Try walking.
Next Wednesday (April 4), the state Department of Health (DOH) is launching a 10-week statewide walking campaign called Step It Up Hawaii to encourage adults to walk 30-plus minutes a day.
"The purpose of the campaign is to get people who haven't been active active," says Jay Maddock, director of the Office of Public Health Studies at the University of Hawaii. "And walking is a nice first step for people who want to get started.
"Our target is working adults, ages 35 to 55, because when we looked at our statistics you really see a big drop off in that category. We found that people have trouble participating in the same activities they did when they were growing up. Also, they tend to have significant life changes, such as starting a family. And when you're in your mid 30s, you tend to have a lot of time pressures that you didn't have when you were younger."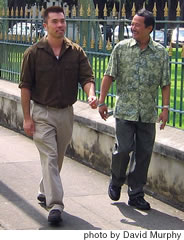 Instead of a sitting meeting, the
DOH suggests scheduling a walk
and talk. This moving meeting is
great for brainstorming and
discussion. Walking and breathing
in fresh air may inspire great ideas
that you may not get in a meeting
room
Throughout April and May, there will be media messages (television, radio and print) encouraging Hawaii's adults to try to incorporate walking into their daily routine.
The commercials suggest that three walks of 10-plus minute are just as effective as one of 30-plus minutes.
In one commercial, Lt. Gov. Duke Aiona, who himself is an avid stair climber, uses the stairs and encourages a man waiting for the elevator to join him.
According to a behavioral risk factor surveillance survey by the Centers for Disease Control, Hawaii is ranked second among the 50 states plus the District of Columbia for having the lowest rate of obesity for adults. Colorado ranked the best.
However, according to Maddock, obesity numbers have been slowly increasing over the last several years.
"The benefits of walking include a reduction in colon cancer and in heart disease," says Maddock. "Also, it can help control weight and it gives your energy. One of the reasons people say they don't exercise is that they don't have energy, but we've found that people actually have more energy after they've walked.
"We are also working with the Department of Transportation in putting together some of the safe walking messages for pedestrians."
According to DOH, for people who are not regularly physically active, walking at least 30 minutes a day, five days a week is one of the best things they can do for their body and state of mind. Moderate to vigorous walking helps to relieve stress, gives the heart the workout that it needs, reduces the likelihood of high blood pressure, makes you feel good, and can help you look good too. They add that if you walked just 30 minutes a day, five days a week, after a year you could lose three to five pounds.
On Oahu, a community walk called HMSA Go Walk At Lunch is scheduled for Wednesday,April 18 at the state Capitol. The event is free, open to the public and takes place from 11 a.m. to 1 p.m. There will also be giveaways along the route which goes around the Capitol and Iolani Palace, totaling less than one mile.
Step It Up Hawaii is the latest component of the DOH's statewide health promotion campaign called Start.Living.Healthy. run by DOH's Healthy Hawaii Initiative and funded by Hawaii's tobacco settlement funds.
Most Recent Comment(s):