Weighing In

By
.(JavaScript must be enabled to view this email address)
Friday - May 21, 2005
|
Share
Del.icio.us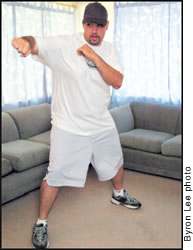 Kutmaster Spaz is working hard to
get down to his fighting weight
Just go! Get up. Get out. Get active.
According to the American Public Health Association, more than 50 percent of adults in Hawaii are overweight or obese. Not exactly the figure (or figures!) we want to show off.
So the Hawaii Medical Service Association (HMSA) is taking a stand and encouraging locals to go — get your body moving. Studies have shown that routine daily activity, apart from formal exercise, can contribute to better health.
Need help? Follow Kutmaster Spaz. About a year ago, the local deejay/ entertainer decided to go, and somewhere along the way he lost nearly 100 pounds. And he's not stopping there.
"My goal is to lose 50 more pounds," he says. "Everybody thinks I'm crazy, but all my life I was kind of overweight. I could've had two other names — Bubble Head or Fat Boy. These are names that people teased me with, but I took Spaz. I can't really do anything about being hyperactive, but I could do something about being fat."
To battle the fat, Spaz simply got active. He began by walking, starting with a short walk around the block to walking for half-an-hour to jogging two miles a day. He also does Tae Bo at home and goes swimming at the district park.
"I was 310 pounds and now I'm 230 pounds," he says. "Before, when I would go to the mall I used to park as near as I could to where I had to go. But now I park far away so I have to walk far.
"I used to feel really lazy. I'd get up in the morning and even though I had a full night's rest, I felt like I didn't . Sometimes I would sleep in 'til about 10 a.m. and by 5 in the afternoon I was tired and burned out. I just felt like I can't go on like this. I would have mean headaches and upset stomachs and I thought something was wrong with me, and I said you know, I think my body just needs to be more healthy."
Spaz exercises six days a week, taking a break on Sundays. He says the most challenging part of it all is staying motivated. But being the competitive person that he is, he found a trick and turned losing weight into a game.
"I set goals and made weight competitions with friends who also wanted to lose weight," he explains. "Every three months I would make a friendly wager with a new person to help me lose weight. We would make rules like you can't starve yourself and you have to do it healthy. If they won, they got $300, and if I won I got three days of them washing my car, cutting my grass, and things like that. Out of four competitions with four different friends, I only lost once.
"I'm competitive, so it helps me, especially when it's late at night and you see that ice cream commercial and you know there's a big gallon of it in your freezer."
Spaz is moving, and now HMSA wants to see you go. Its new go campaign offers an interactive Website, a subsidized Weight Watchers pilot program for qualified HMSA members, and numerous print, television and radio ads encouraging Hawaii residents of all ages to get active.
"Studies show that inactive people are almost twice as likely to develop heart disease than people who are more active, and the combination of poor diet and physical inactivity is rapidly approaching tobacco as the leading cause of preventable death," says Robert Hiam, president and CEO of HMSA. "Of particular concern is that, at 22 percent, the youth obesity rate in Hawaii is twice the national average."
Visit www.HMSA.com/go and learn more about physical activity, including a calorie burn off matrix that shows how much and what kind of physical activity a person needs to burn off calories for a variety of snack foods, based on that person's body weight.
There's also a stretching guide, physical activity safety tips, and a statewide community calendar of events loaded with listings for various classes, seminars, activities and more.
"Small but sustained changes in activity level can positively impact a person's health. Just getting off the couch, staying on your feet longer and moving around more can help you reach your health goals," notes Hiam. "Kids can simply play Frisbee, shoot hoops at the park or join a hula halau or other dance group at a local club. Adults who can't make it to the gym can simply take the stairs, vacuum the carpet, rake leaves, wash the car, swim with the kids or work in the garden."
.(JavaScript must be enabled to view this email address)
Most Recent Comment(s):
Commenting is not available in this weblog entry.