What A Little Discipline Can Do

By
.(JavaScript must be enabled to view this email address)
Friday - February 20, 2008
|
Share
Del.icio.us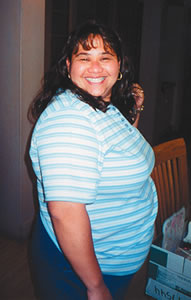 What started as a weight-loss challenge among a group of coworkers 21 months ago has turned into a life-changing journey for Cheryl Campbell, who has since lost 160 pounds.
"It was in June 2006 and one of my co-workers at the Sheraton Waikiki did a melt-away challenge," recalls Campbell, 37. "It was a six-week contest for women only, and everybody put $20 in the kitty.
"I was determined to win. I started going to the gym and working out, and at the end I lost about 32 pounds and I won."
Standing at just 4 feet 11 inches tall, Campbell weighed, at her heaviest, 287 pounds and wore a size 28. Her doctor warned her that if she didn't lose weight, she could get diabetes, high blood pressure and other health problems.
"He also said that the longer I wait, the harder it would be," she says. "Growing up I was a little chubby, but by high school I had slimmed down. I was active in sports like swimming and water polo.
"But then I started gaining weight in my 20s. I was busy with work and got comfortable in a relationship and just let myself go. And when I started working at the hotel I had access to food, so that didn't help. Gradually, I just got bigger and bigger."
Campbell adds that her diet used to consist of a lot of fast food and six or seven cans of soda a day.
"I would also eat in front of the TV until 4 or 5 o'clock in the morning," she says. "And before I would wear a lot of T-shirts and elastic pants. I was wearing men's XX-large shirts and XX-large pants. I didn't feel pretty, and I didn't have any confidence."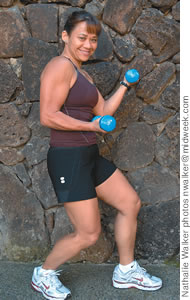 At one point, Cheryl Campbell weighed 287, but these days she's down to 127 pounds
After the contest, Campbell wanted to lose more weight, so she continued to exercise and diet. But it wasn't easy.
"In the beginning I couldn't even last on the elliptical machine for 15 minutes," she recalls. "And I was so embarrassed to go to the gym because I was big. I was going five times a week, but I was embarrassed to go during the regular hours that most people go, so I would always go after midnight. I just didn't feel comfortable."
Campbell also changed her diet, cutting out the soda and changing from white rice to brown rice.
"After just one month of cutting those out, I lost 25 pounds," she says. "And I went months without watching TV. Instead I would go to the gym. And then I decided that if I went to the gym for 10 hours in one week, then I would give myself two hours of watching TV for that week.
"I needed to discipline myself. I started to drop more weight and it got easier."
Finally, when she hit the 90-pound weight-loss mark, Campbell says she wanted to keep going, but couldn't.
"I wasn't moving, it was like I hit a plateau," she explains. "One of my co-workers, Chris Brown, was helping me with my training. He would suggest new exercises for me to do and it was great, but I wanted more. So, he suggested that I get a personal trainer."
Campbell enlisted the help of Masayo Copeland at 24 Hour Fitness and also started kick-boxing classes at Smith Tae Kwon-Do in Kaneohe.
"Masayo helped me a lot with what to eat, and taught me about supplements to help with my recovery after workouts," says Campbell. "And kickboxing is just awesome. I go three times a week and it's so much fun."
In December 2006, Campbell's husband passed away from a heart attack and she says his death has and continues to motivate her to live a healthy lifestyle.
"He had high blood pressure and started to have diabetes," she says. "We both got comfortable in our lifestyles, and I don't want to die of a heart attack.
"I enjoy being able to not have to huff and puff when I'm climbing up Diamond Head or Makapuu with my friends. When I look at old pictures of myself I think, 'Who is that person?'And I can't believe I let myself get to that point."
Now Campbell is able to run 5-plus miles without being tired. She wears a size 2 to 4 and weighs 127 pounds.
"It feels so good to step outside now," says Campbell, who works as a guest service agent at the Sheraton Waikiki and as a cashier/customer service representative at Niketown Honolulu. "And I love buying clothes now.
"Through all of this, I've learned that you can accomplish anything you put your mind to. And you have to take care of yourself because life is short."
Campbell also credits her friends, family and co-workers for helping her get to where she is today.
"A lot of people just need a friend to help jump-start their exercise program," she says. "I have a friend who wanted me to help her with losing weight, and now she goes to the gym all by herself.
"It's hard in the beginning, especially giving up the rice. You have to just take baby steps."
Most Recent Comment(s):