What Happens When We Sleep

By
.(JavaScript must be enabled to view this email address)
Friday - September 17, 2008
|
Share
Del.icio.us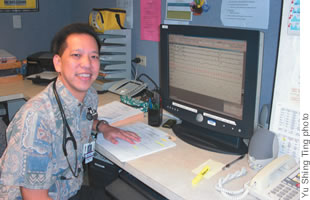 Dr. Roger Yim studies a patient's brain activity during sleep
I love watching my 11-month-old son Koen sleep. He just looks so peaceful. But the other night, as he was sleeping, he was smiling and even let out a giggle. It was really cute to watch, but odd at the same time.
"He was probably dreaming," says Dr. Roger Yim, medical director for the Sleep Center at The Queen's Medical Center. "But what do babies dream about, we don't know."
According to Yim, one theory for why babies dream is because it helps with their neuro development.
But there's no scientific answer to why adults dream.
"Even while a fetus they can have dreams," adds Yim. "They go through different stages of sleep too, and as soon as their brain starts to develop they can start dreaming."
There are five stages of sleep. Stage 1 and 2 are considered a light sleep (with slow eye movement and muscle activity), and Stage 3 and 4 a deep sleep (with no eye movement or muscle activity). The fifth stage is known as REM (rapid eye movement), or dreaming sleep, because this is the period when most dreams occur.
"There is one theory that we dream to relieve stress and work out problems," notes Yim. "A lot of times if you worry about something and you start thinking about it and you go to sleep, you may even dream about it.
"But that's just a theory. A fact that we do know is if you don't get REM sleep you'll feel more tired in the day, so there is some benefit to it, but we don't know exactly what it is and why."
As for nightmares and night terrors, those usually happen in stage 3 and 4.
The difference between the two is that nightmares are considered a bad dream, and night terrors are really, really bad dreams where the person (usually children) wake up with a blood-curdling scream.
"With nightmares, a lot of times kids will wake up and they're scared, but they don't remember vivid details about the dream," says Yim. "They might know that someone was chasing them, but they don't remember what they look like. That stage is a deep sleep, so it's a little harder to come out of that sleep and people in general tend to be a little confused.
If they do get woken up out of that, they might not even remember where they are.
"In (stage 5) REM sleep, you usually have very good recall and can give vivid details."
During REM sleep, your muscles aren't active, but your brain is almost as active as it is when you're awake.
But for people who suffer from REM behavior disorder, their muscles aren't inhibited, so they can actually act out their dreams.
"It's pretty rare, less than 1 percent of the population in the U.S., but the ones who have it, it's pretty dramatic," notes Yim. "I had a patient who was a Vietnam veteran, and he would get out of bed and jump over the sofa and through the table. Another patient grew up on a farm catching chickens, and one night he was dreaming and he had his hands around his wife's neck."
For REM behavior disorder or night terrors, medication is available to help suppress it.
As for those dreams we have and what they mean, Yim says medically they don't do dream interpretations.
There are, however, people who study dreams and even call themselves dream experts.
In next week's On The Move, we talk to some of these experts.
Most Recent Comment(s):