What's Inside Li Hing Mui?

By
.(JavaScript must be enabled to view this email address)
Friday - March 03, 2006
|
Share
Del.icio.us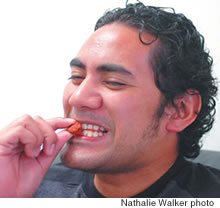 If you enjoy li hing mui, like Andy Falelua
here, do it in moderation as a special
treat
Anyone who knows me knows that I'm a true li hing mui freak. I love just about anything li hing - li hing pineapples, li hing mangoes, li hing gummies, li hing kakimochi, li hing ice cakes, li hing margaritas ...
And I know I'm not the only one. But I've always wondered just how healthy or unhealthy is this popular snack? And then there are those words in big capital letters printed on many li hing mui packages - PHENYLKETONURICS: CONTAINS PHENYLALANINE.
Contains Pheny ... what? "What that means is that they have sweetened the product with aspartame, which is the chemical name for Nutri Sweet (also sold under the brand name Equal)," explains Dr. Alan Titchenal, assistant professor at the University of Hawaii Department of Human Nutrition Food and Animal Sciences.
"By law, it's printed because there is a small percentage of the population who have a genetic condition called phenylketonuria, where they don't break down the amino acid called phenylalanine adequately enough so they have to not consume too much phynelalanine.
"You get phenylalanine in any food that contains protein. It's a common amino acid, so people with phenylketonuria have to watch how much protein they have in their diet, and having aspartame adds a little more.
They have to watch their intake and control it.
"They still need it, but they shouldn't have too much of it because essentially it breaks down to a toxic component that can cause mental retardation and problems like that."
PHENYLKETONURICS: CONTAINS PHENYLALA-NINE is also often seen on cans and bottles of diet sodas.
Today, in the United States and in most countries, a genetic screening is performed on infants to see if they have phynylketonuria. So now we know right at birth if the child is going to have this condition.
As for li hing's nutritional values? Well, its main ingredients are plum, licorice, salt, sugar, aspartame, food coloring and water.
"As a special treat, it's fine," advises Titchenal. "In terms of the major issues that there might be, it's like any other sweets that are the type of sweets where if kids are sucking on it all the time then there's dental health issues to be concerned about.
"Just like if somebody drinks soda every hour on the hour and is not washing their mouth out, the sugar is sitting in there and can cause tooth decay over time. The big thing is dental health issues."
And I don't know about you, but growing up I remember being told numerous times that eating the red seeds can cause cancer.
"All of the food coloring today had to be approved by the Food and Drug Administration, so they've been evaluated for toxicity and carcinogenicity," says Titchenal. "There have been problems with different dyes over the years, but any one that has been linked to cancer have been pulled off the market. So, most of the artificial coloring today has been tested, and chances of that happening are pretty slim.
"Again, it's in the amount one will consume. It should be just as a special treat."
While li hing snacks are often high in sugar and salt, they tend to be low in fat.
I know not everyone enjoys this popular, sour-tasting, mouth-watering treat, but if you do, try to enjoy it in moderation, especially during the holidays when the endless li hing gift baskets arrive. And don't forget to brush you teeth or at least wash your mouth out when you're done.
Most Recent Comment(s):