When Baby Gets Locked In The Car

By
.(JavaScript must be enabled to view this email address)
Friday - December 29, 2010
|
Share
Del.icio.us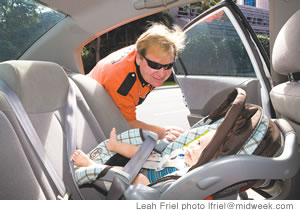 Jack Walker of Pop-A-Lock rescues a baby in a locked car
One afternoon earlier this month, Terri Hardin was getting ready to leave her Hawaii Kai home when she accidentally locked her baby in the car.
"My husband and I just bought this truck and it has a Viper alarm system on it, and apparently the door immediately locks," recalls Hardin. "I started the car and put baby in the car seat in the back, then shut the door, and when I went to get into my driver seat, the car was locked.
"My husband was upstairs sleeping and I had no idea what to do, so I ran upstairs and got him and he called Pop-A-Lock."
Within 15 minutes, PopA-Lock was there and 21-month-old Reagan was free.
As a service to the community, Pop-A-Lock offers an Emergency Door Unlocking (EDU) program where it will immediately respond to a call when a child is locked in an automobile - free of charge.
"I think it's an amazing program," says Hardin. "They took a very nerve-racking situation and made it a little more bearable. They even called in between getting here to make sure everything was OK. And when the gentleman got here I tried to give him a tip, but he wouldn't even take the tip."
Intended to support local police and firefighters, PopA-Lock's EDU program educates parents to first call 911 and then 1-800-PopA-Lock. A Pop-A-Lock technician nearest the scene will put all other priorities aside to arrive as soon as possible to unlock the child from the vehicle.
Pop-A-Lock of Honolulu, owned by Cathy and Jack Walker, has been in business for a year-and-a-half. The company offers a variety of services including rekey, replacement and repair of door locks, as well as making dealer car keys on site.
"Nationwide, the EDU program was created in 1991, and since then more than 250,000 children were rescued," notes Cathy. "In Hawaii, we've been called eight times.
"From what I've heard, especially with new mothers, they are getting used to a routine with putting a child in a car seat and trying to remember everything, and the keys can be set down for just a split second, and that's all it takes. Safety and security for the community is our top priority."
Most Recent Comment(s):