Women's Boot Camp

By
.(JavaScript must be enabled to view this email address)
Friday - February 24, 2006
|
Share
Del.icio.us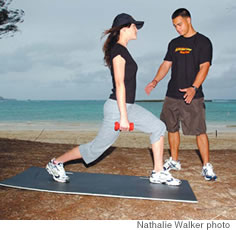 Groves works out with fiance Ng
Looking for a new way to get in shape? Windward couple Kalani Ng and Shanna Groves has launched the Hawaii Adventure Boot Camp for Women, offering four weeks of fun outdoor fitness instruction, nutritional counseling and motivational training.
The class, which is open to women of all ages and fitness levels, meets in Kailua/Kaneohe from 5:30 to 6:30 a.m. Monday through Friday.
"The program consists of many different styles of training," explains Ng, who worked as a medic in the U.S. Army before starting Hawaii Adventure Boot Camp for Women. "We use uncommon forms of exercise, providing a fun, unique experience that gets you outside the four walls of a gym. The great thing about our program is that we do something different every day."
Exercises include weight training, core training, calisthenics, short distance running, sport yoga, fitness kick boxing, Pilates, and obstacle courses, as well as adventurous hikes and beach runs.
"Also, we know that a healthy diet is an important part of fitness, so we also offer nutritional counseling and diet planning," adds Ng. "The week before camp starts, we give a pre-evaluation, which consists of assessing our new clients, getting to know them, and answering any questions or concerns they might have. We also talk about their health history.
"Then the week after the camp, we meet with them again to go over their progress, and encourage them on their journey."
According to Ng, women who complete the program can achieve a 3 percent to 5 percent reduction in body fat, a 5- to 12-pound weight loss, 1- to 3-inch reduction in the mid-section, and a 100 percent boost in confidence.
You can also expect a 25 percent improvement in strength and endurance.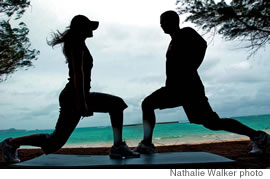 Windward couple Shanna Groves and Kalani Ng are
launching the Hawaii Adventure Boot Camp for
Women
"Fitness has always been a part of my life," says Ng. "While I was in the Army, I assisted many soldiers in achieving their fitness goals by training them and educating them on a healthy lifestyle.
"It was then that I discovered my passion for helping people through fitness."
Adventure Boot Camp originated in Orange County, Calif., with fitness expert and author Dr. John Spencer Ellis. Since then it has grown to include locations throughout the U.S., and in Africa and the Netherlands.
Ng, who has been involved with sports and fitness since the age of 5, discovered Adventure Boot Camp while researching for his own fitness program.
A graduate of Castle High, he enjoys boxing, wrestling and kick boxing, and currently coaches wrestling at Radford High.
"Seeing as how there isn't anything like this in Hawaii, I knew it would be a great opportunity for the local community," says Ng on his reasons for starting Hawaii Adventure Boot Camp. "I'd like to see a healthier, more active Hawaii."
The first Hawaii Adventure Boot Camp for Women kicks off March 6. Registration is $299 for a four-week camp, or $199 for a three-day-per-week program. There's also an express package, which is a two-week camp for $149, and a nutritional plan for $99.
For more information, call 382-9416 or visit www.hawaiibootcamp.com
Most Recent Comment(s):