Worker's Workout

By
.(JavaScript must be enabled to view this email address)
Friday - July 23, 2005
|
Share
Del.icio.us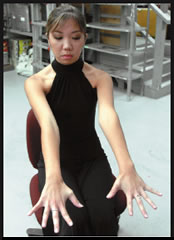 Finger stretch: Hold arms out, palms
down, spread fingers as far apart as
possible, relax and repeat 10 times
Stop and stretch. Your body will thank you for it.
According to the Occupational Safety and Health Administration (OSHA), more than 28 million Americans use computers each day. Well, listen up. Sitting at the computer all day can lead to poor posture, back pain, hand problems, and even affect your vision. But you can prevent these injuries by practicing some simple exercises throughout the day and by checking that your workstation is set up properly.
"People who are at the computer get poor posture because they're working forward all day," explains Lisa St. John, an occupational therapist at CHART Rehabilitation. "Also, their head is forward in what we call a vulture head position, and that causes a lot of tension in the upper traps. And sitting all day puts a lot of pressure on the lower back, which causes back pain.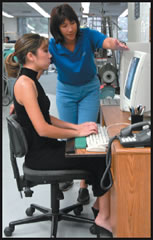 Lisa St. John shows a patient
the correct desk setup
"And because of technology, everyone is working quicker and constantly keying, so they tend to have hand problems, such as carpal tunnel syndrome. And sitting at the computer all day can also affect your vision because you're staring close up for long periods of time, so it's important to look away and focus on something at a distance for a couple of minutes throughout the day. It's also important to stretch because it takes posture that you've been in all day long to the opposite direction."
St. John also recommends that people get up from their seat every 30 minutes and walk around for a few minutes, and to check their desk setup.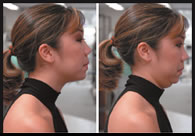 Double chin: Sit with back against chair and
slowly pull head straight back. Repeat 10 times
"Because of office space, the most common mistake we see is that the computer isn't centered to them, which causes an unnatural working posture," she says. "Their keyboard and monitor should be centered to them.
And the most common problem we see is repetitive strain injuries like carpal tunnel.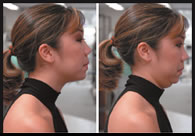 Shoulder roll: Let your arms relax by
your side and roll shoulders up and
backward in a circular motion. Repeat
10 times
"Adjusting the chair is important, too. You're supposed to fit yourself to your workstation. Make sure when you're sitting, your forearms are parallel to the floor, elbows are at a 90 degree angle, wrists are neutral and shoulders are relaxed. To get in that position you may need to alter your chair height and use a foot stool. And the top of the monitor should be at eye level."
St. John says she has noticed a rise in office-related injuries over the years and credits it to job demands and an increase in awareness, which leads people to seek help when they feel pain. There are also more people working on computers today than ever before.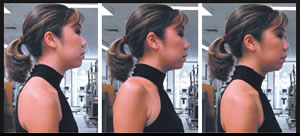 Neck bends: Slowly let head fall to left shoulder, hold
for 10 seconds, return to starting position and let
head fall to right shoulder, hold for 10 seconds,
and return to starting position. Repeat three times
St. John, who has been in her profession for 18 years, shares some simple exercises to help with posture and shoulder tension.
If you're already experiencing pain, check with a doctor before trying any of these exercises.
Next week: The first of a three part series on the Na Wahine Sprint Triathlon.
.(JavaScript must be enabled to view this email address)
Most Recent Comment(s):
Commenting is not available in this weblog entry.