Working On Strength And Balance

By
.(JavaScript must be enabled to view this email address)
Friday - June 29, 2011
|
Share
Del.icio.us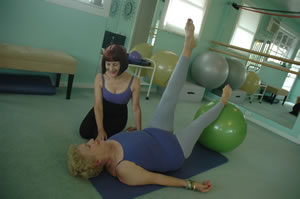 Patty Haft works with Kathryn Graham (left) on stretching and strengthening her leg while maintaining balance with a stability ball
About five years ago, Kathryn Graham noticed "how beautiful" her friend's posture was and asked what she was doing. That was the beginning of her journey to get in better shape with the help of Pilates-based fitness consultant Patty Haft.
Graham, now 77, says she feels good and strong.
"I had one knee replaced and eventually the other one, and Patty was very helpful with the rehabilitation," says Graham. "Also, I've lost about 20 pounds, and my dowager's hump is gone."
Haft, who was born and raised in New York and has been dancing since she was 10, moved to Hawaii 28 years ago. When she arrived, she started offering posture workshops at various health clubs on the island, quickly built a clientele, and eventually opened her "boutique fitness" studio called Creative Fitness in Kilohana Square (1016 Kapahulu Ave.).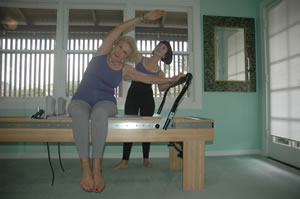 Stretching and slimming her waist with a side-stretch exercise.
"It's a very intimate environment and I deal only with one person at a time," explains Haft. "The reason I do that is because I can give them my full attention and get to the source of what's going on in their body and how I can best help them. I have people from age 10 to 90, all sizes and shapes and I'm dealing with all walks of life, such as expectant mothers, people with disabilities, people with illnesses, business people and athletes."
Sessions are one hour and workouts are custom-tailored to each individual with a combination of stretching and strengthening of the body through Pilates-based exercises and dance. Cost is $80 for a single session, $750 for 10 sessions.
"Fitness has been a part of my life since I was 10 and as I get older, it continues to be," says Haft. "I'm about to turn 60 this year, and I realize the importance more now than ever of having to maintain my health and physical well-being."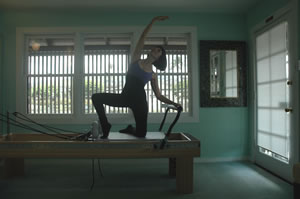 Haft does an advanced version of the side-stretch exercise
Haft stretches every day, swims in the ocean four times a week, and alternates days for walking and dancing ballet.
For more information, email .(JavaScript must be enabled to view this email address) or call 285-1475.
Most Recent Comment(s):