Workout Buddies

By
.(JavaScript must be enabled to view this email address)
Friday - February 17, 2006
|
Share
Del.icio.us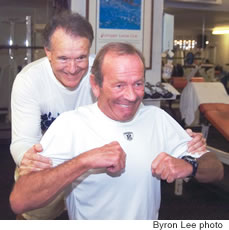 Sen. Fred Hemmings and Denver Broncos
owner Pat Bowlen, here doing isometrics,
havebeen workout partners for the past 35
years
State Sen. Fred Hemmings may have turned 60 last month, but he continues to be strong and active thanks to his healthy lifestyle and a committed work-out buddy.
"What keeps me going is that it's a habit," says Hemmings, who continues to work out five to six days a week. "Also, having a workout partner helps. (Pat Bowlen and I) we've been doing this for 35 years. He makes me work harder because we're competitive."
Bowlen, who is in his 23rd year as the owner of the Denver Broncos and a part-time Hawaii resident, also works out daily. His sports highlights include completing two Ironmans, and finishing four marathons, including the New York Marathon in a time of 3 hours and 1 minute.
"My first goal (with exercising) is to stay in shape because as you get older you want to stay younger, and one of the ways to stay young is to get in shape," says Bowlen. "I still go skiing in Colorado and I would like be able to ski the same difficult runs that I did 20 years ago.
"(Being active) becomes a part of your life. I've competed in triathlons and road races since I was in my 20s. I'm around athletes and training equipment all the time. From my office, I go downstairs and I have a staff of highly paid professionals. And I always strongly encourage the players, coaches and staff to use the facility."
In the gym, Bowlen usually uses the bike, elliptical and stair climbing machines, as well as free weights (but not heavy). He also continues to ski, canoe surf and golf. And he does isometrics, which he learned six years ago from Broncos strength and conditioning coach Greg Saporta.
"It's resistance training," explains Bowlen. "I do it every other day. I need a partner, and basically you resist the pressure he puts on."
In the gym, Hemmings will assist Bowlen with his isometric exercises (as pictured above), but he doesn't do it himself.
"I never do much weights or isometrics because I'm a bulky guy already," says Hemmings. "But ever since he (Bowlen) has been doing it, his upper body strength is 10 times what it used to be, easy."
Hemmings, who has completed 12 marathons, including the 1983 Honolulu Marathon in a time of 3 hours and 13 minutes, continues to do a lot of cardio training, but admits to not being able to run like he once did. And the former world champion surfer, who has had three hip-replacement surgeries, a dislocated shoulder from a bicycle accident, and four operations on his right knee and two on his left, limits his surfing to canoe surfing.
"If I don't work out, I feel like I'm missing work," says Hemmings, who also paddles occasionally. "And there are a lot of fun benefits. It's enjoyment for me.
"Our bodies have changed a lot. But overall, I'm healthy. If I were sedentary, I'd be 50 pounds heavier."
As workout partners and friends, Hemmings and Bowlen have shared many memorable moments together, such as surfing 15-foot waves in a canoe, and running in Cleveland one winter where they "almost froze to death."
"When looking for a work-out partner, you've got to get someone who thinks the same way as you about getting in shape," advises Bowlen. "They have to be committed."
"You have a friendship, but there's also a competitive nature to it," adds Hemmings. "There's this one stair climber machine that we would do for 25 minutes, and it would give you a printout of how many floors you went. Pat would do about 335 and I could never get passed 330.
"It was a friendly competition between us that would push me to work harder."
Most Recent Comment(s):