Year-end Resolutions

By
.(JavaScript must be enabled to view this email address)
Friday - December 29, 2006
|
Share
Del.icio.us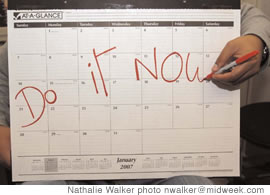 Don't wait for the new year before you start working
out
Now that Christmas has passed, it's time to reflect on 2006 and set new goals for 2007.
For many, New Year's resolutions often include losing weight, exercising more or getting into shape.
But how do you start when the fridge is stuffed with endless plates of leftovers and the kitchen counter is covered with a mountain of goodies?
For me, the leftovers are enjoyed in moderation for the next few days. As for the yummy but not so healthy treats, I plan to share them with friends, co-workers, neighbors and family, as well as those friendly employees at my neighborhood stores and restaurants at which I frequently shop and dine. And, of course, our dedicated postal carriers who work extra hard to deliver countless packages on time and in one piece.
I know, some may think it's rude of me to give away a gift that was given to me, even if it's just a box of chocolates. To avoid this, I simply open up all my treats, save some for myself, and then re-package the rest, mixing up the sweets.
And now that I'm done speed shopping for presents, I can go back to the gym. Ha! How many people have that on their list of New Year's resolutions? My guess is almost everyone.
While I do enjoy working out at the gym, I plan to go back to surfing instead. It's fun, it's physical and I enjoy it more than the gym.
For a successful New Year's resolution, the trick is to pick something you actually want to do.
And don't wait for the new year to start. As personal trainer Kimo Kockelman of Hardass Fitness suggests, make it a year-end resolution.
Here are six tips (from Kockelman) to consider when setting your new year's resolutions:
1) Enjoy the process. Do it with friends or hire a professional. Believe it or not, there are trainers who can make the process fun.
2) Start slowly and build momentum. If you haven't run in years, don't take up jogging because more than likely you won't enjoy yourself and you'll be less likely to lace up those shoes on the next go around. Start by walking, have fun and see what happens.
3) Include activities you actually enjoy, such as tennis or hiking.
4) Find ways to build activity into what you already do. Consider walking when you play your next round of golf, or take the stairs instead of the elevator, or park at the far end of the parking lot.
5). Don't make it a result but more of an action. Instead of saying I'm going to lose 30 pounds, say I want to increase my activities by taking a 15-minute walk every day, or say that you want to avoid fast foods or snack foods.
6) Take a positive step today, don't wait until Jan. 1. Call it a year-end resolution and start today.
Happy holidays and many wishes for a healthy 2007!
For more healthy tips, visit www.hardassfitness.com
Most Recent Comment(s):