Your Dreams And What They Mean

By
.(JavaScript must be enabled to view this email address)
Friday - September 24, 2008
|
Share
Del.icio.us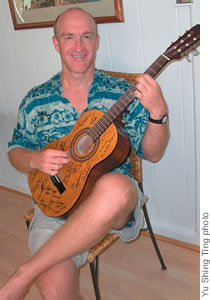 Clinical psychologist Doug Schwartzsmith, also a musician, has had songs come to him in his dreams
When I think about the dreams I had when I was a little girl, there's one I remember in great detail.
Actually, it was more like a nightmare, as it caused me to wake up in the middle of the night bawling.
In the dream, I was in Shirokiya at Ala Moana Center, and an employee took me around the store to look for my mom. We could-n't find her, so they took me to a back office and made an announcement over the PA system.
I sat in the office and waited, and then I started to cry. That's when I woke up.
It was only a dream, but it felt so real. Now, I wonder, what did it mean?
"Scientifically, there's no answer to why we have dreams and what they mean," says clinical psychologist Doug Schwartzsmith. "As far as content, oftentimes it's really obvious if you're thinking a lot about something, it'll show up in your dreams.
"For me, I used to be a a bicycle racer and every once in a while, I have a stress dream where I'm supposed to be at the start line but I can't find it. My personal opinion is that it means I'm frazzled in my real life - there's not enough time, I'm rushed and hurried."
These days I dream a lot about work - good and bad. I've thought of great story ideas and even finished stories I started while asleep.
"Dreams are usable and important if you'd like them to be," says Schwartzsmith. "Or they may also slap you upside the head in the middle of the night and you can come up with a new song, painting, scientific breakthrough, or a great feeling of peace or a blood curdling scream.
"I'm also a musician, and I've had songs come to me in my dreams. My favorite song by Sonny Chillingworth is Moe 'Uhane, which is known as the dream slack key. This whole song also came to him in his dream."
For people who are consistently having the same dreams or nightmares and are concerned about it, Schwartzsmith suggests turning to their family, religious leaders, culture, personal belief system and/or even a psychologist.
"Those are all the people who support you in your meaning making and spiritual development," explains Schwartzsmith. "How you treat your dreams and how serious you should take them is up to you.
"There are people who are visited or have messages in their dreams or are forewarned about things. There are people with all kinds of amazing stories with dreams.
"I just think dreams have as much meaning as you want them to have."
Schwartzsmith is a member of the Hawaii Psychological Association, which offers free, confidential 24-hour online referrals at www.hawaiipsychology.org.
Most Recent Comment(s):