Building Bridges Of Brotherhood
By Hugh O'Reilly
Wednesday - September 01, 2010
Share

By Hugh O'Reilly, Board Member
Peace Bridge Inc.
Peace Bridge Inc. is an independent nonprofit 501(c)(3) organization founded in 2007 to carry on the legacy led by my late father, Hugh F.X. O'Reilly, and the Hawaii-based 27th Infantry Regiment of the U.S. Army, also known as the Wolfhounds.
The Peace Bridge board is 100 percent volunteer-based and is made up of military and civilian community members who are dedicated to the Peace Bridge mission, which is to support, perpetuate and build upon the unbroken tradition of compassion, friendship and peace that began in 1949 between the Wolfhounds and the Holy Family Home orphanage in Osaka, Japan.
In fact, the name of the organization was derived from the title of the book A Bridge of Love from East to West about Sgt. O'Reilly and this relationship between the Wolfhounds and the home.
Peace Bridge serves as the torchbearer of the Wolfhound/Holy Family Home legacy that began 61 years ago. As such we are "serving" all the past, present and future members of the 27th Infantry Wolfhounds, stationed at Schofield Barracks.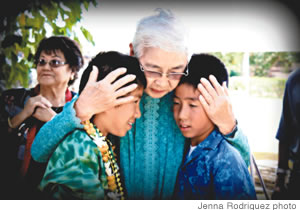 Yuko O'Reilly, wife of the late Hugh F.X. O'Reilly, hugs Holy Family Home orphans Ryosaku and Tenta shortly before their departure back to Japan last month
Peace Bridge organizes and funds two key events annually to further this incredible legacy. Each summer four children from the Holy Family Home (different ones each year) are flown to Hawaii for a two-week trip of a lifetime. They stay with Wolfhound families and spend two weeks experiencing all that Hawaii has to offer. More importantly, they experience a real family life.
At Christmas, Peace Bridge funds an annual Christmas party for all the children and staff of the Holy Family Home. Representatives from the Wolfhounds fly to Japan with gifts for all. Additionally, each year via Catholic Charities, children from Holy Family Home are adopted by Hawaii and Mainland families.
Our greatest challenge is moving into the future and growing upon this legacy of international brotherhood and understanding. Our primary goal at this point is to establish scholarships with local universities for children of the home.
Peace Bridge is entirely funded through private donations. Tax-deductible donations are made via our website, wolfhoundspeacebridge.org, or through the Combined Federal Campaign (CFC# 93048).
People who are interested in learning more about Peace Bridge and our mission can contact us at 388-6000 or .(JavaScript must be enabled to view this email address).
Hawaii charitable organizations may send requests for space in either Proof Positive or the free advertisement below to dchapman@midweek.com.
Most Recent Comment(s):