Creating Healthy Communities
By
Wednesday - October 12, 2011
Share

By Michael Broderick,
President and CEO, YMCA of Honolulu
Mention Hawaii and most people think of year-round sunshine, beautiful beaches and a healthy environment not obesity. Yet, close to 27 percent of Hawaii's children ages 10 to 17 are overweight or obese. Overweight children are prone to health problems including high blood pressure, diabetes, cancer and heart disease during their youth and as adults. And sadly, these children are more likely to become overweight adults unless they adopt and maintain healthier patterns of eating and exercise.
The YMCA is the nation's leading nonprofit, serving 10,000-plus neighborhoods across the U.S. For 160 years, the Y has created healthier communities through promoting youth development, healthy living and social responsibility. A few years ago, the Y launched Pioneering Healthier Communities (PHC), a nationwide initiative that provides communities with the strategies to create and maintain a healthier environment. Locally, we gathered top leaders from organizations such as HMSA, Kaiser, Kapiolani Community College, UH Medical School, Department of Education, Hawaii Association of Independent Schools and Department of Health to improve Hawaii's overall health. PHC achieves this goal by promoting policy and environmental changes to create sustainable opportunities for healthy eating and physical activity.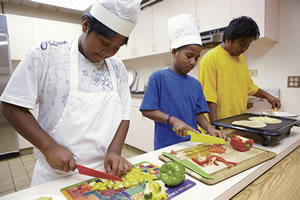 Students learn to cook healthy meals. Photo courtesy YMCA
To date, PHC has achieved noteworthy milestones:
* At YMCAs across Oahu and at other after-school facilities, teens are learning to make healthy dishes that are fast, easy and tasty. Parents report their children now take charge at the supermarket, purchasing healthy items to create meals they know how to cook.
* PHC Hawaii members have used their resources to promote the 5-2-1-0 campaign statewide. The campaign advocates eating five or more fruits and vegetables, dedicating two hours or less to screen time, doing one hour or more of physical activity and having no sugary beverages each day.
Other initiatives include working with developers to create healthy communities by incorporating playgrounds and gardens into design plans, and setting up wellness teams within schools to create and implement policies that will lead to a healthier environment. Tackling obesity is everyone's responsibility. We can help Hawaii's youths by making changes in our homes, communities, schools and workplaces. Children learn by example, and by leading the way we can ensure our children live healthier lives. For more information, visit ymcahonolulu.org.
Hawaii charitable organizations may send requests for space in either Proof Positive or the free advertisement below to dchapman@midweek.com.
Most Recent Comment(s):