A Small Plate Suggestion For Japengo

By
.(JavaScript must be enabled to view this email address)
Wednesday - December 28, 2011
|
Share
Del.icio.us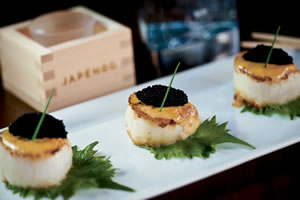 Japengo's diver scallops are plump and juicy. Jo McGarry photo
I'm sure I'm not going to be the only person to point out that Japengo, a beautifully appointed, Asian-inspired restaurant within Hyatt Regency Waikiki, has a few challenges. None of them, happily, has anything to do with the quality of the food.
"We're in Waikiki, we're in a hotel, and we're on the third floor," says newto-Hawaii executive chef Sven Ullrich. "Of course it's a challenge."
And it's always challenging when you replace a restaurant that's been a favorite for decades. Those who have fond memories of Ciao Mein won't recognize the rooms where Chinese Italian food restaurant formerly reigned. Japengo is the result of a $3.5 million renovation and is part of the upgrading of Hyatt's entire third floor. Where once stood Japanese restaurant Musashi and an outdoor buffet, you'll now find an executive lounge alongside Shor, an American seafood and steak grill, and SWIM, a cool, contemporary poolside bar providing the perfect place for a pau hana cocktail or pre-dinner drink.
Japengo has been cleverly transformed into a restaurant that's part trendy sushi bar, part lounge and part casually elegant dining room. The name, Marco Polo's word for the Orient, means land of mystery, but there's nothing mysterious about the menu. In fact, most of the dishes, from Chow Fun to Potstickers through Korean Pancakes, Kurobuta pork and Hoisin Glazed Pork Ribs, are as familiar to local diners as meat loaf and mashed potatoes might be to Japengo's Mainland guests presumably the real target of the restaurant.
"We had experts come and teach us," says Sven, who swears Japengo's fried rice is the best you'll ever taste. A Japanese master came to teach the subtleties of sushi, a Korean chef taught how to make kalbi and a wok master came from China to give lessons in frying rice. And it's fair to say the resulting dishes represent possibly the best of their kind, with none showing signs of the kind of schizophrenia found all to commonly on Asian fusion menus.
The food is perfectly executed by chef Michael Yamada and his staff. Yamada has been with Hyatt for the past 14 years, and he seems to have found his comfort zone serving this version of kicked-up local favorites. Bringing a plate of truly delicious fried rice to the table alongside Korean chicken and wonderful duck potstickers, he commented that the menu serves really local-style food. "People really like it," he says.
There's a lot to like. Diver Scallops are plump and juicy with just a hint of ocean brine, and sushi a selection of local and imported fresh fish was first rate. ChuToro ($16) offered five fatty pieces, silken and buttery smooth, and I would have eaten several orders of Unagi ($11 for two pieces), but realized I had to save room for dishes such as rice, short ribs and salmon.
Service is attentive, pleasant and speedy, and with its classy décor and relaxed atmosphere, the restaurant should be buzzing with couples and groups of trendy 30-, 40and 50somethings sharing plates, tasting cocktails and eating family style. The food is so good and the sushi so perfectly prepared that the restaurant should be bursting at the seams just like Side Street Inn. But with hotel-driven, touristdesigned prices $22 for Fried Rice and $36 for Chinatown Chow Funn it's going to be hard for locals to justify ordering up the plates like we do elsewhere.
Not that restaurant owners listen to food writers, but if they did, the management here might consider changing the menu for Honolulu (there are Japengo Restaurants in several Hyatt resorts around the globe) and offering smaller plates of the same wonderful dishes. At $12 or $13 a plate for fried rice or Korean chicken, prices become more attractive and smaller dishes mean people order more from the menu. Japengo is too good a restaurant for locals to write off as another Waikiki no-go. Instead it should become a cool place to hang and eat some excellent small plates.
Happy eating!
Most Recent Comment(s):