An Island-fresh Commitment

By
.(JavaScript must be enabled to view this email address)
Wednesday - July 19, 2006
|
Share
Del.icio.us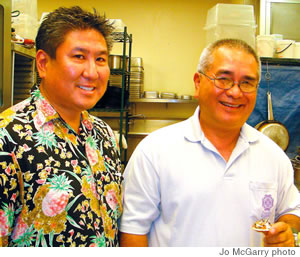 Mutual admiration: Chef Alan Wong with owner of Hamakua
Springs Farm, Richard Ha
If you want to get Alan Wong to drop his oftentimes shy and somewhat serious demeanor, just start talking to him about local farmers, their wonderful produce and how their work complements his own. His whole face lights up.
Wong grew up around the pineapple fields of Wahiawa, working summers there. His affinity with local farmers and love of multicultural cooking goes back to these early days. Wong's been a champion of farmers since he opened his first restaurant more than a decade ago, but in recent years he's been able to offer a wider range of their produce to his customers. On the menu these days at The Pineapple Room, and at his flagship South King Street restaurant, you'll find Hanalei poi, Big Island goat cheese, Kahuku corn, Hamakua Springs tomatoes, Hamakua mushrooms, Maui Cattle Company beef, North Shore Cattle Company kiawe-grilled steak, Waialua asparagus, fresh island fish and a daily salad made up of local produce.
But for Wong, the commitment to local farmers, students and his guests extends way beyond the kitchen.
"I tell my students that we have a social responsibility as chefs to show people a taste of Hawaii," he says. And by that he means nurturing long-lasting relationships with farmers, children and those old storytellers out at the Plantation Village who guard the history of Hawaii's rich food culture.
Richard Ha, owner of Hamakua Springs Farms on The Big Island, knows firsthand the power of working with a committed chef.
"Our work doesn't end with the produce leaving for the docks anymore," he says, smiling. "Nowadays we see how our tomatoes are used, and we have a renewed sense of pride. We know where our tomatoes are going, and working with Alan makes us want to improve. We want to get better because of him."
Wong and a few of his staff traveled to Hilo recently to cook for the Hamakua Springs farm workers, showing them the end results of their hard work in the field.
"Everyone is so proud," says Ha, "and of course we love the food!"
There's a great opportunity to see the synergy and taste the food on July 30, when Wong and his team host a Paniolo-style brunch, "You Like Beef?" at The Pineapple Room, in celebration of Calvin "Doc" Lum and his North Shore Cattle Company. Lum (a retired Hawaii state veterinarian) started his company on more than 1,000 acres above Haleiwa with the intention of producing Hawaii-raised, naturally fed beef. Today North Shore beef is served at some of Hawaii's finest restaurants, and is sold at Tamura's, and the Lum family can be found each Saturday morning at the Oahu Farmer's Market at Kapiolani Community College grilling up their home-raised burgers and sausages.
The July 30 event is the beginning of a series designed to celebrate local farmers, and while this first one celebrates North Shore beef (items on the menu will include carved prime rib, mini burgers, shabu shabu beef salad, beef tartare of tenderloin, paniolo chili, meatball stuffed peppers, beer sausages and meatball soup) there will be plenty of other local products - creamy goat cheese, tomatoes and asparagus - on the brunch menu.
Keeping it local is more than a mantra or a political statement. When it comes to our farmers and growers, keeping it local is a way of life.
For a taste of the best that local farmers have to offer, don't miss this event. (Tickets are available by calling (808) 945-6573.) I promise you it will sell out - and if you don't call now, you're going to miss one of the most enjoyable meals of the year!
Happy eating!
Most Recent Comment(s):