Local Dishes Go Gourmet

By
.(JavaScript must be enabled to view this email address)
Wednesday - April 11, 2007
|
Share
Del.icio.us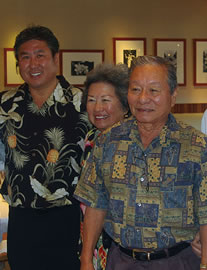 Alan Wong, Helen and Charlie Higa
What do Zippy's and one of the city's top restaurants have in common? If you guessed Alan Wong you'd be right. The co-founder of the Hawaii Regional Cuisine movement, and one of our most celebrated chefs, has a lot more in common with Hawaii's favorite stop for chili than you'd think. Both rely on regional and ethnically diverse foods for menu ideas - admittedly Alan throws the net a bit farther - and both appreciate the value of family mealtimes and good, local food. The Higas, Zippy's founding family, and Alan Wong go back to his days on the Big Island.
"My brother Francis tasted Alan's food years ago when he was still at Mauna Lani," says Charlie Higa, "and he was so impressed with his food that he asked Alan to consider coming to Honolulu." The Higas had space in a building they were going to turn into Zippy's accounting office - instead it became Alan Wong's Restaurant on S. King Street. Today, the address is listed in food magazines and directories the world over, and the third floor 'accounting office' is a mecca for foodies.
"I'm fortunate that they trusted me, and decided to invest in me," says Wong, with typical humility.
A dozen years later, Alan Wong's is about to celebrate an anniversary, and the Higas, along with other local business people, are sharing their family secrets.
"This event, Share Your Table, celebrates the importance of coming together over food," explains Wong. "When you think about Hawaii, you think about hibachi, potlucks, family gatherings, and that's how we like to eat. Getting together around the table is a way to find out what's going on - it's the main fabric of society, and that's what we want to get back to."
So Wong invited a few of his friends (Greg Gomes, Alton Kuioka, Duane Kurisu, Deena Nichols and Pamela Young) and asked them to share food memories with his staff. The result is a menu that will include dishes such as Oriental Chicken Noodle Soup, Corn Pudding and Chicken Hekka and the series of cutting edge dishes they have inspired. Executive Chef Lance Kosaka, Chef de Cuisine Wade Ueoka and a series of Wong's sous chefs have been hard at work, learning from the old days. In Wade's hands, Charlie's chicken noodle soup becomes de-boned chicken stuffed with shrimp and pork hash and poached in a light chicken stock laced with Hamakua mushrooms. Corn pudding inspired Lance to create an Asian polenta with lup cheung, ginger, garlic and black beans. And Wong will create dishes in his own inimitable style, such Tuna on Crackers and Lobster Corn Dog.
For the guest chefs, it's a chance to reflect on their own food memories.
"You know, we never went to a restaurant once when I was a kid," says Charlie Higa. "Every meal, we ate at home."
I ask Charlie and his wife Helen about that famous chili and how it all got started, and they laugh.
"We had a chef who was temperamental," says Helen.
"So I fired him," pipes in Charlie, smiling.
"I remembered how to make the chili," Helen says. "I told Charlie, he wrote it all down and we just developed it from there."
"Imagine," reflects Charlie, "We went from making 15 gallons at one time, to making 300 gallons today. That's a lot of chili."
Happy eating!
Share Your Table Sunday, April 15 5:30 to 8.30 p.m. The Pineapple Room 949-2526
Most Recent Comment(s):