Making Healthy Changes In Your Diet

By
.(JavaScript must be enabled to view this email address)
Wednesday - January 11, 2012
|
Share
Del.icio.us
Umeke Market co-owner Michelle Yamaguchi. Jo McGarry photos
If you're already about to throw in the kitchen towel on that new diet you started Jan. 1, you might want to ditch dieting altogether and simply start eating differently.
Every year millions of Americans vow to lose weight in January, but before the treadmills have had time to cool down, more than 80 percent have fallen off the wagon.
Don't despair if you find yourself facing another failed diet and the prospect of keeping those unwelcome extra pounds. Michelle Yamaguchi believes she has the answer.
"I tell people that if they forget about dieting but just make some simple, healthy changes, the weight loss will come and last," she says.
Yamaguchi is co-owner of Umeke Market, one of the original whole foods and delis in Honolulu, and she's been in the business of making good food for as long as she can remember.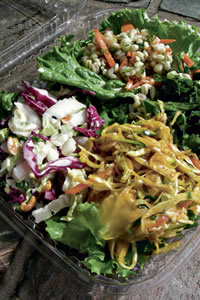 Umeke Market's slaw salads
"We were raised around farms, and my mom had a garden that was huge," she says. "We picked seasonal vegetables, canned tomatoes ... my grandparents had a farm near Cincinnati on the most beautiful black soil. They grew cabbages, potatoes, tomatoes and they would truck it down to Campbell's Soup and sell it to them. It was hard work, but a ton of fun."
Today she's determined to help people remember what fun eating well can be and how it brings its own rewards. A series of cooking classes that she brings to companies and groups have been taking off, and she's convinced that the well-rounded, nonpreaching approach is the one that works.
"I have a desire to help people eat better," Yamaguchi says sincerely. Most of her changes involve simple substitutions: Switch the soda for water, the starch for a variety of whole grains, and if you need rice, then go for brown or even a mixture of brown and white. "If people just incorporate more vegetables, change up the starches, it makes a big difference," she says.
But for many of us struggling with daily life, increased pressures and a still stagnant economy, the thought of starting a whole new way of eating is somewhat overwhelming. It's easier to stick to fast food and comfort food than to try to change the family routine.
But Yamaguchi has the answer to that, too.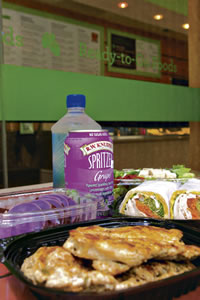 Umeke offers a variety of healthy takeout choices. Jo McGarry photos
"When we go into companies or meet with groups, we usually cater a lunch and then when people have tasted how good the food is, we show them how to make a couple of dishes and incorporate simple changes into their diets. We also talk about taking vitamins, talk about sleep and health problems, educate about eating hormonefree food ... whatever they want to talk about."
Most people are shocked by how easy the food prep is, and to make the point that anyone can cook, Yamaguchi carries the tiniest tools of her trades.
"I use a small wooden cutting board and a small knife," she says. "It gives people confidence that they can do anything in the kitchen without requiring a ton of fancy equipment."
And she enjoys the shock that people express when they find out good food tastes better.
"People love it," she says. "It's fun to expose people to new food and have them get excited about it."
If you'd like Yamaguchi to educate and cook at your workplace or organization, email .(JavaScript must be enabled to view this email address)
Happy eating!
Most Recent Comment(s):