Molly's Daughter Is Smokin' Like Mom

By
.(JavaScript must be enabled to view this email address)
Wednesday - January 18, 2012
|
Share
Del.icio.us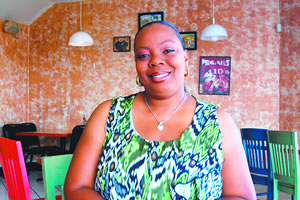 Molly Walker's daughter Aylia Tillman runs the front of the house at Molly's Smokehouse
The last time I saw Molly Walker, we were eating kolaches think malasadas meets manapua and chatting about Texas sweet tea.
At the time, Molly's Smokehouse was literally the hottest thing in Wahiawa, and the introduction of kolaches at breakfast had Molly rushed off her feet.
"Those kolaches got a little too famous," she says with a grin when we met up again last week. "I realized that at some point we just weren't going to be able to keep up with the demand."
Other demands took their toll on the upbeat, Southern food queen when her father died three years ago.
"I was so affected by my father's death, by everything that happened in our family, that I just couldn't function in the same way," she says.
Anyone who puts their heart and soul into cooking for a living will understand exactly what she means.
"It was so hard coming every day to cook and to put all the passion into the food when life was just so sad," says Molly.
But food has a way of bringing people together, and as Molly kept on cooking, she decided that it might be the perfect time to encourage a new generation of her family to carry on the mission to bring "the best Texas barbecue" to Hawaii.
"My daughter Aylia has taken the reins," says Molly.
"I'm front of the house and my mom is still the root of everything at Molly's," says Aylia. "We're keeping the food exactly the same because it's Molly's food and the taste that they enjoy."
That means more of that famous smoked beef brisket, made tender by hours spent in a custombuilt, 30-year-old castiron smoker that sits in the parking lot puffing out wafts of barbecuescented steam all day long.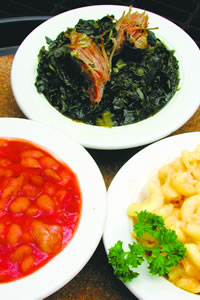 Molly's sides include collard greens, baked beans and mac and cheese. Jo McGarry photo
"If people want a taste of what we do, they should try my mom's smoked brisket or a barbecue plate," offers Aylia. "There's nobody smoking meats the way we do."
The difference is in the meat, not the sauce.
"Texas barbecue is all about the meat," Molly says. "We cook the meat so it's perfect, and then we add the sauce as a complement. Our food is 100 percent smoked brisket and pork and chicken," says Molly. "They taste so good, you don't need a sauce to cover them."
From fried catfish, collard greens, mac and cheese and baby back ribs, to beef brisket and pulled pork by the pound, Molly's Smokehouse offers a taste of Texas barbecue that's hard to find anywhere else.
And now, with help at the helm and the next generation ready to carry the barbecue beacon, Molly seems to be finding her place in the kitchen again.
"It's hard to teach a passion for cooking," she says, "unless you have it in you."
Aylia seems to have stepped into the passionate role with ease.
"I've seen the sacrifices that my mother made for me to help me with my dreams," she says. "I know that I have the same passion to help with her dreams."
There may even be a chance that those incredibly popular kolaches will start making an appearance at breakfast time again one day soon. But we're not making any promises.
Happy eating!
Molly's Smokehouse 23 S. Kamehameha Hwy. Wahiawa
Most Recent Comment(s):