Predicting Food Trends For 2012

By
.(JavaScript must be enabled to view this email address)
Wednesday - January 04, 2012
|
Share
Del.icio.us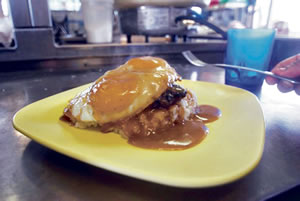 He'eia Pier General Store and Deli's loco moco. Jo McGarry photos
Dining in 2011 involved simple pleasures and a return to a waste not, want not approach to food. Rather than experimental, gastronomic chemistry in the kitchen, Hawaii chefs continued their commitment to locally grown food and to partnering with farmers and fishermen.
In predicting food trends for the coming year, it's safe to say that farm-totable eating will continue to thrive and be accessible to all.
Here are some highlights of this past year in food and some thoughts on things to come:
Fish to Fork. The opening of He'eia Pier General Store and Deli was one of the finest culinary moments of the year. Not least because of the contagious enthusiasm brought by chef/owner Mark "Gooch" Noguchi and his partners. The restaurant, on the edge of Kaneohe's famous pier, serves as a beacon to sustainability. "We feel fortunate to be here," says Gooch, "but the food is secondary to where we are it's an important platform. When there's fish, we serve it. When people ask how come no more fish, we can tell them because nobody caught it. Hopefully the message is getting through."
Nose to Tail. Ed Kenney and Dave Caldiero started cutting up whole pigs a few years ago, and continue to offer various charcuterie plates at their Kaimuki restaurant, town. These leaders of the Hawaii sustainable food movement were joined by a number of chefs practicing the art of charcuterie this year, most notably at SALT, Kevin Hanney's American izakaya. Hanney, who's been practicing sustainable cooking since the '70s, realized a dream in offering a full charcuterie menu and using whole hogs from Shinsato Farms. SALT's small plates, excellent fare, late-night kitchen and vibrant bar scene should ensure a number of "best of" awards later in the year.
Pop-ups.As the economy continues to crawl back, pop-up restaurants will thrive. While logistically complicated, pop-ups have much to offer: exciting, one-off dining experience for foodies in search of the next best thing to eat, and a place where creative young chefs can showcase their passion. Look to see more pop-ups emerging early in 2012.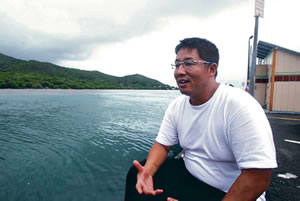 He'eia Pier General Store and Deli chef/ owner Mark 'Gooch' Noguchi
Share Plates. Say goodbye to all-you-can-eat buffets and hello to plates made for sharing. Smaller portions yes, even in Hawaii will become more prevalent this year. Educated diners want to maintain portion control, and restaurants need to find a way to cope with escalating food costs.
Cutting portions while maintaining high quality should achieve this.
Look for downsizing in fast food restaurants (mini bites at Starbucks, smaller portions at McDonald's) and the same approach in restaurants. Small plates may rule in trendy restaurants while share plates will offer the same value and variety in others. Familystyle eating may be the way restaurants balance their frightening food costs.
Seasonal Produce Stores. Farmers markets will continue to thrive, but there's a real demand for produce stores much like the kind found in Europe. Expect to see at least a few farmerowned or cooperatively managed stores offering a variety of seasonal produce. It's an idea whose time has come in Hawaii, where many consumers want to cut down on big-box shopping and eat fresh, local food on a daily basis.
Food Trucks. They'll still be around. While those with a burning ambition to open their own restaurants continue to be frustrated by the transient nature of trucks, the trend will continue through the year, offering young chefs an outlet for creativity and consumers the chance to eat cheaply and well.
Most Recent Comment(s):