A Pedestrian-Driver Two-way Street

By
.(JavaScript must be enabled to view this email address)
Wednesday - March 14, 2007
|
Share
Del.icio.us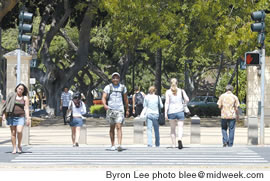 This busy crosswalk at UH-Manoa doesn't allow
students time to cross Dole Street — note the
'don't walk' sign on the right
Oahu is probably one of the few places where pedestrians have to stop at a crosswalk and look both ways carefully, even when crossing a one-way street. And to many people, it's only part of the problem.
Pedestrians on Oahu can get run over sitting at a bus stop or trying to get across the street in a wheelchair. If there is any constant in the recent pedestrian accidents, it is that the majority of the victims are over 65 years of age. I'm not an expert on people over 65; however, I know that they start to lose their hearing acuity around that age, and their eyesight begins to weaken.
It's interesting to note that while senior or "seasoned" citizens do need corrective glasses to drive, they are not the most accident-prone drivers. Those under 20 years of age, more often than not, pay the highest insurance premiums and are involved in the most serious automobile accidents. I suspect the argument would be that the more "seasoned" drivers used better judgment, and the younger ones, for whatever reason, use poorer judgment when behind the wheel.
There has been a great deal of information disseminated in the last month about why Oahu's pedestrians have been subjected to such peril while trying to negotiate a busy crosswalk. Whatever happened to the "Drive with Aloha" program? Obviously, Oahu's motorists are too busy and too distracted.
I find it interesting that one segment of our population, young or "seasoned," does not show up in the accident statistics - the visually handicapped. For some reason, those who are legally blind don't show up as victims of those who violate the rights of pedestrians. How come? They can't see where they are going without their red-and-white canes, yet they never seem to get banged or run over. Could it be it's because they expect to be hit when they enter the crosswalk?
Motorists seem to be more considerate in sharing the road with bicyclers, even though they frequently violate just about every safe-driving rule, not only in crosswalks, but on sidewalks and median strips. Could it be because the bicyclist has something the elderly pedestrian doesn't have - quickness?
It is probably safe to say that if pedestrians could get across the crosswalk faster, fewer would have collisions with automobiles whose drivers can't seem to understand what the law means by violating the rights of a pedestrian.
The bottom line is that telling the pedestrians they have the right-of-way is small consolation as long as automobiles are bigger and stronger. Arguing about right-of-way is a no-win situation for the pedestrian. Even the police officers charged with the responsibility of enforcing this old law with new penalties are probably hard-pressed to pinpoint who is guilty when these accidents occur.
Soon, someone in power will deduce that pedestrian etiquette must be taught; it must be a twoway street. But I wouldn't expect another, tougher law to solve the problem.
The point is the pedestrian always loses, even if he or she had the right-of-way.
Most Recent Comment(s):