Chicago's Dirt May Hurt Obama

By
.(JavaScript must be enabled to view this email address)
Wednesday - December 17, 2008
|
Share
Del.icio.us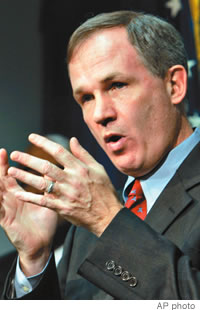 U.S. Attorney Patrick Fitzgerald
There's an old saying in observing politics that has proven to be pretty accurate once again: "If you don't like what's going on in the political arena, wait six months." Just when it seemed like clear sailing for the Barack Obama juggernaut, something terrible happened.
The governor of Illinois, Rod Blagojevich, was arrested last week after federal prosecutors accused him of essentially conspiring to sell the appointment to fill the president-elect's Senate seat to the highest bidder or whomever could provide the greatest return, like cash or a high-paying job.
Illinois has a dismal record of political corruption. This makes for the fourth out of the last seven Illinois governors to be indicted since 1960! And since 1972, 28 Chicago aldermen have been convicted of an assortment of criminal acts while in office.
The arrest couldn't have come at a worse time for Obama. His political career blossomed in Illinois, and no matter how you think about politics in general, an arrest of this magnitude hurts every elected official in the United States. Why? Simply put, there are a lot of taxpayers who believe there is a lot going on behind the scenes and under the table when it comes to lucrative political appointments.
There is an underlying thread of truth in what the whacked-out governor of Illinois allegedly said, which was caught on a wiretap. U.S. Attorney Patrick Fitzgerald, who is handling the investigation, released a small part of what he says is the wiretapped conversation. Blagojevich is quoted as saying about his power to name Obama's replacement, "I've got this thing and it's (expletive) golden, and I'm not giving it up for (expletive) nothing. I'm not going to do it." According to court papers, he made known through emissaries, including union officials and fundraisers, that Obama's seat had a price tag.
The president-elect is on record saying he did not discuss the replacement with the governor at any time, but did not say if any of his top aides had discussed the seat with Blagojevich or any of his henchmen ... excuse me, emissaries. This is where the media will go searching for mud. Fitzgerald has made no allegations that Obama was aware of any scheming, and because the case is under investigation, it's too early to know for sure. People close to the investigation say they have been investigating Blagojevich for at least three years. However, the wiretaps are certain to include many more names of elected officials in Illinois.
This should be a good lesson for would-be politicians, if and when you are elected: Be very careful when it comes to making wild and crazy statements or accusations because you may be wiretapped. And rest assured, being wiretapped by the Federal Bureau of Investigation is a lot more sophisticated than being taped by a local Senate staff member to make brownie points with the party leadership. Imagine what kind of information the FBI has probably accumulated with 75 hours of wiretapping? Names, places, deals and secret plans all were probably discussed. Remember mob boss John Gotti's wiretaps? It's amazing what powerful people say when they think nobody is listening.
This may be another classic example of "absolute power corrupts absolutely."
Expect this to all develop in the coming weeks. The media will not leave the story with his resignation. In fact, it has been revealed that one of Obama's top aides, Michael Strautmains, worked for Blagojevich when he was in the U.S. Congress and helped him win the governorship in 2002. He has been appointed recently to Obama's staff as presidential assistant for inter-governmental relations and public liaison. That is the link the media will be looking into, big time.
And yes, candidates who want to be the next governor of Illinois will surely surface to fill his seat if he is forced to resign. Their platform will be based on changing how politics work in the state of Illinois.
Most Recent Comment(s):