Sen. Inouye's 'Halo Effect'

By
.(JavaScript must be enabled to view this email address)
Wednesday - July 29, 2009
|
Share
Del.icio.us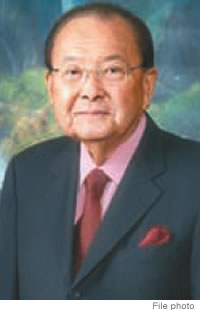 Sen. Dan Inouye: surprising comments
One of the negative things that occurs when people try to make sense of a collective-bargaining process is they stereotype or create a biased perception of what's going on with the parties involved.
People interpret their environment so they can respond appropriately. The truth is, the complexity of any environment makes it almost impossible to process all of the information readily. This is cause for concern when it leads to biases and errors in perception and subsequent communication with the public.
A classic example of this is a statement from U.S. Sen. Dan Inouye. On July 20, from Washington, D.C., our senior senator said on the topic of the state's budget crisis and Gov. Lingle's dealings with public unions: "There are moments in our lives when political consequences could be considered. But this is a crisis that affects the lives and properties of our people. We should not make decisions to politically punish or politically enhance a group. This is a time when all of us should put our minds together, set aside differences and work out a solution."
Now, let's face it, Sen. Inouye is a hero to the people of Hawaii. It's fair to say that in the eyes of many, he wears a halo. This "halo effect" occurs when people generalize about a variety of attributes based on the attributes of an individual. Example: A smiling person is often judged to be more honest than a frowning person, even though there is no consistent relationship between smiling and honesty. Halo effects and stereotyping are common hazards in negotiations - always have been, always will be.
For that reason, it was surprising to read Inouye's comment: "We should not make decisions to politically punish or politically enhance a group." One would expect at least one media type to ask who is being politically punished by the governor's layoff notices, where the senator got his information and which political group is being enhanced by the layoff notices.
The mere suggestion that one party or another in a negotiation should be viewed in moral terms - honest or dishonest, ethical or unethical - is likely to affect the perception of a wide variety of their other attributes and is simply not in the best interest of the parties involved.
After last week's bargaining session, both the public worker unions and the state remained tight-lipped about the details of what went on behind closed doors. That's how it's supposed to happen. But then a secret source told a local newspaper that the administration's counter offer was a combination of pay cuts and furlough days. It made for a good headline - but it did no good and actually helped spread distrust between the negotiating parties.
The good senator made a similar misstatement when he commented about Punahou school, which then presidential contender Barack Obama attended, and later had to issue an apology to Punahou.
He doesn't make those kinds of mistakes often, but it's obvious the public unions, mayors running for re-election and others running for public office, who depend on the unions for financial and logistical support, asked the senator's office to help enhance the public's opinion about the unions' uphill battle to minimize any concessions they may have to make in these tough economic times.
It's a good bet these negotiations are almost over and there won't be a special session of the Legislature, but not before the likely statewide closure of programs and facilities to make ends meet.
Most Recent Comment(s):