Statehood Something To Celebrate

By
.(JavaScript must be enabled to view this email address)
Wednesday - August 31, 2011
|
Share
Del.icio.us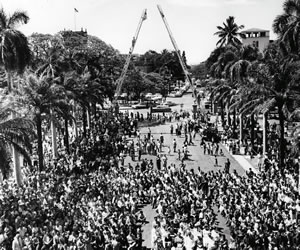 Citizens of the new 50th State gather to celebrate in 1959. Honolulu Star-Advertiser photo
Aug. 2l, 1959, was a great day in Hawaii. It was on that day President Dwight D. Eisenhower signed the Admission Act into law, making Hawaii the 50th state in the union.
After being dominated by the Republicans and their control of Hawaii's plantation economy (remember the Big 5?), the Democrats came to power. It was a time of great jubilation. I was living in Europe at the time, and everyone was congratulating me on becoming an American citizen. It was a strange feeling after all, I was in the U.S. Army at the time and never thought of citizenship as an issue.
Getting newspapers from back home was painful because I wanted to be there. Everyone was so happy, and there were parties and political speeches. I distinctly remember Dan Inouye saying, "We are now full-time Americans. Someday someone from Hawaii will even run for president of the United States."
Well, most predictions have come true. We are the one of the most famous tourist destinations, international and national investments continue to flood into Hawaii. The second world war began in Hawaii with residents of Hawaii serving with great distinction in all branches of the military. And, of course, someone born and raised in Hawaii did run for president and got elected.
So there is reason to be a proud citizen of the 50th State. But there was no celebration on Statehood Day this year. With the exception of a couple of Honolulu Star-Advertiser articles and one or two stories on the evening news, there was no jubilation.
Yes, the state and county offices were closed, along with the satellite city halls and public schools. TheBus ran on a holiday schedule, on-street parking was free, except for municipal lots and metered stalls along Kalakaua Avenue fronting Kapiolani Park. Mail was delivered and the trash was collected as if it was a regular day. But there was no pride on display.
I was surprised. I expected the Democratic Party loyalists would try to remind the 1 million residents of Hawaii how grateful we should all be for fighting so hard in Washington to get President Eisenhower to sign the Admission Act into law. It's as if we are no longer proud to be the 50th state in the union, that we are no longer willing to remember those who made it all happen. It was a titanic political struggle of biblical proportions.
Yes, it is a state and City & County holiday, but it doesn't seem adequate. It could be the hint of resentment in the air about the whole process. It makes you wonder if the long road to achieving statehood is even taught in our public schools anymore.
In a state where the politicians are willing to close down Kalakaua Avenue for a parade honoring just about any cause from anywhere in the world, maybe we should do a better job of remembering some of the many people, benefits and entitlements that go along with being part of the United States of America.
Most Recent Comment(s):