The Big Impact Of Independents

By
.(JavaScript must be enabled to view this email address)
Wednesday - May 26, 2010
|
Share
Del.icio.us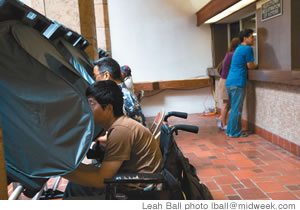 Voters cast ballots in the 1st Congressional District race last Thursday at City Hall
A lot of taxpayers are probably wondering why there is so much intensity in the race for the 1st Congressional District seat.
As of this writing, Hawaii election officials have been reporting that almost 45 percent of the ballots mailed to registered voters in the contest had been returned. It's estimated at least 137,000 ballots had been returned out of the 317, 337 sent to voters in the all-mail special election. Ballots had to be returned by this past Saturday.
The campaign has been high-spirited, but we have not seen the real fury of this election unfold. That will occur after a winner has been announced and the three top candidates - Republican Charles Djou and Democrats Ed Case and Colleen Hanabusa - resume the battle in the upcoming primary election. The all-mail special election went better than expected, leading to a bigger stage for the next go around among the three candidates. You could almost feel the Democrats hold back resources just in case the race for the permanent position gets tighter.
To dispel myths about how unions can sway elections when the time is right, I'm sure the unions, both private and public, have a vested interest in who represents their members in the 1st District. But be advised there is not one legitimate piece of research that shows strong and convincing evidence that union votes have won an election. The reason is simple: No one has been in the secret ballot box when votes are cast. It's an old wives' tale. In point of fact, most people won't tell you whom they voted for, and if they do, many times they give an "appropriate" reply, not wishing to disturb a friend.
There are a couple of things that bear watching.
Of the 691,000 registered voters in the state of Hawaii, 29,000 are card-carrying Republicans and 30,000 are card-carrying Democrats. The rest are independents, and more often than not elections are decided by them. Simply put, if Republicans win an election in Hawaii, they have to do it with help from Democrats. This is where the drama comes from. Democrats are urging Democrats to vote for a Democrat. The Republicans are speaking to independents for victory.
Make no mistake, even a short stint in the 1st Congressional District seat is valuable for whoever wins. Overnight, the ballot box becomes a cash register. Members of either chamber of Congress earn $165,000 per year. They enjoy living expenses, health and life insurance coverage, and $1.6 million in allowances for personnel, office and franking privileges, just for starters. And there are many more financial advantages the longer you stay elected.
Public service has a rosy side. All in all it's a good deal: You run with other people's money and, if elected, have a free, staffed, furnished office in one of the most famous buildings in the world. And you don't even have to pay for electricity.
When the smoke clears, I would be totally surprised if independents didn't carry the day and the 1st Congressional District.
Most Recent Comment(s):