Gang Gone
Adult Friends For Youth's unique approach to dealing with entire gangs not individuals, and treating gangs as a mental health issue not a law enforcement issue, has about an 80 percent success rate and has helped end more than 30 gangs. Here's how they do it
Wednesday - July 06, 2011
By Brandon Bosworth
E-mail this story | Print this page | Archive | RSS
|
Del.icio.us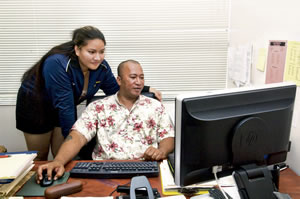 Mo Maumalanga, a former gang member who now has a master's degree, helped Onolina Taotofi get out of a gang and earn a college volleyball scholarship
associate with each other without the negative influence of gang mentality.
And what exactly is gang mentality?
"Gang mentality is about 'representing.' Representing the gang, the [gang] colors, the turf ..." says Mo Maumalanga, a counselor at AFY. "It's about the extent and willingness to use violence."
According to Maumalanga, "Once they learn to represent as individuals, not as members of a gang, they don't think of violence." Once the gang mentality is gone, former members can still be friends and hang out together without resorting to violence.
Maumalanga is certainly in a position to know what he's talking about. Besides holding a master's degree in social work, he is an exgang member. "I was very violent, and involved with gangs since I was 8 years old," he says. He spent nearly a decade in and out of prison, including serving time for his involvement in a drive-by shooting. During this time he was in frequent contact with Deborah Spencer-Chun. "Debbie visited me in, and didn't blame me. She just asked how she could help."
In 2001, Maumalanga was released from what would be his last prison stint. "I didn't see myself in college, but AFY believed in me," he says. He received his M.A. from the University of Hawaii in 2007. Looking at his life now, Maumalanga says, "People are surprised I don't get as angry as I used to. Now it's all about helping the kids."
Maumalanga isn't the only person working at Adult Friends for Youth who comes from a troubled background. Executive assistant and fundraiser Jane Tampon had a brother who was in gangs as a teenager, and she recalls a hard life of "being bounced from house to house" after their parents died, as well as being picked on and bullied as Filipino immigrants. Tampon has now been involved with AFY for 20 years, both as a client and worker.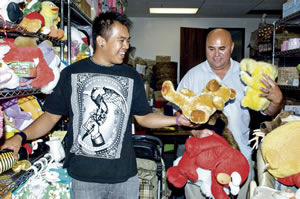 AFY student Lester Orsino helps VP Mac Schwenke in the storage room. Nathalie Walker photos

.(JavaScript must be enabled to view this email address)
It isn't rare for people like Maumalanga and Tampon to be so changed by their experiences with AFY as teens that they want to continue their involvement as adults. Consider Onolina Taotofi. She was the only female member of an all-male gang. In high school, she says she "got into a fight every day, and got suspended every week." With the help of Adult Friends for Youth she learned to move away from violence. Now Taotofi is preparing to head to California, where she'll be attending Taft College on a volleyball scholarship. She plans to pursue a degree in social work and return to Hawaii to work with AFY.
Other members of the AFY staff come from somewhat less dramatic backgrounds. Vice president McKay "Mac" Schwenke, a native of New Zealand, has worked as a teacher and coach in Arizona and Hawaii. Spencer-Chun has been involved with the organization since its days as a pilot program at UH under founder and president emeritus Rosen.
Like so many nonprofits, Adult Friends for Youth has had to weather tough economic times. About a third of its funding comes from local government, another third from private sources and the final third from fundraising. A big part of their fundraising efforts is the AFY annual dinner auction. This year's event will be held Friday, Nov. 25, in Sheraton Waikiki Hotel's Hawaii Ballroom. Frank De Lima will be on hand, as will Jan Brenner, Al Waterson and Jordan Segundo. Hundreds of items will be auctioned off. (For reservations, call 833-8775.)
And while Adult Friends for Youth has a remarkable record of success, everyone involved knows there is always lots of work to be done.
"We live in a quick-fix world," says Rosen. "It doesn't work that way. We have to be there for these kids day-in, day-out and never give up on them."
Page 2 of 2 pages for this story < 1 2
Most Recent Comment(s):